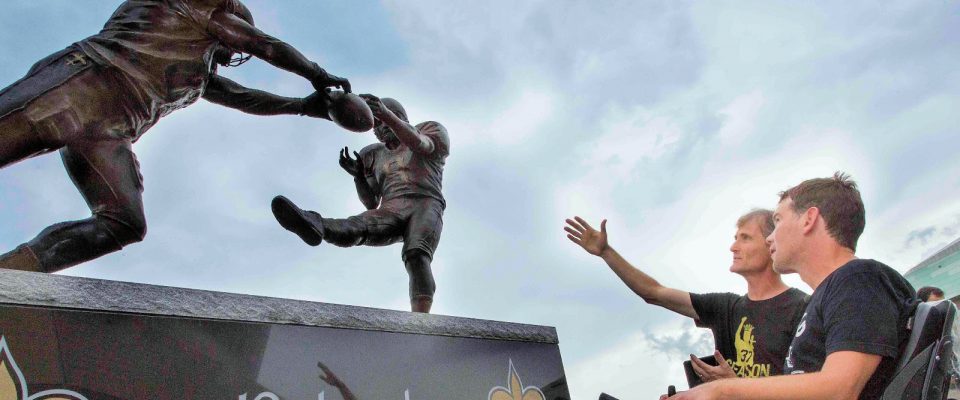 ---
Cover photo courtesy of Hanlon Sculpture Studio
In football, a blocked punt is one of the rarest and most exciting plays on the field. On September 25, 2006, New Orleans Saints defensive back Steve Gleason uproariously blocked an Atlanta Falcons punt on the first evening the New Orleans Superdome opened after Hurricane Katrina struck the city.
For that blocked punt, Steve Gleason is forever immortalized by Saints and N.F.L. fans across the globe. It takes a high-energy motor, determination and a love for the game to block a punt, and Steve pulled off one of the bests in N.F.L. history.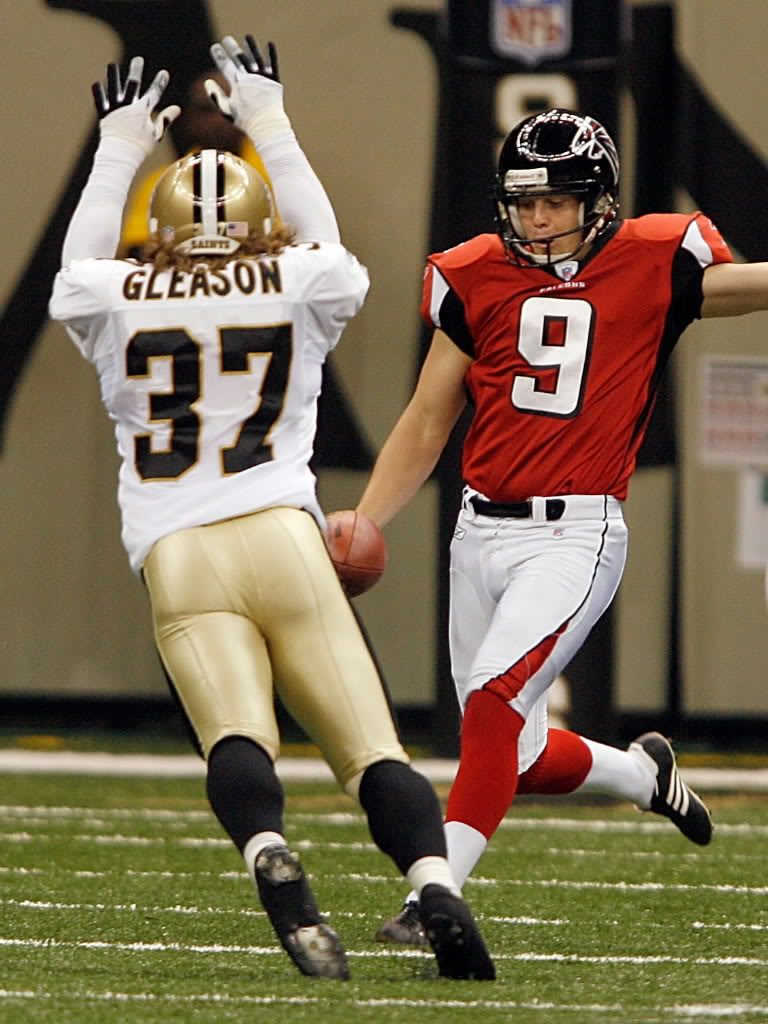 Five years later, Steve was faced with a challenge larger than any lineman in the league. He was diagnosed with ALS, a neurodegenerative disease that affects motor functions in the brain and causes severe muscle weakness.
Using that same persistence needed to slice through the Falcon's offensive line, Steve and his wife Michel have formed Team Gleason to help bring awareness to those affected by ALS and to help fund research to find a cure once and for all.
"Beyond his faith that there is a solution to heal, it is his mission to show that patients can not only live but thrive after this diagnosis," reads an excerpt from the Team Gleason website. "In doing so, he hopes to inspire others to do the same."
Team Gleason in MSY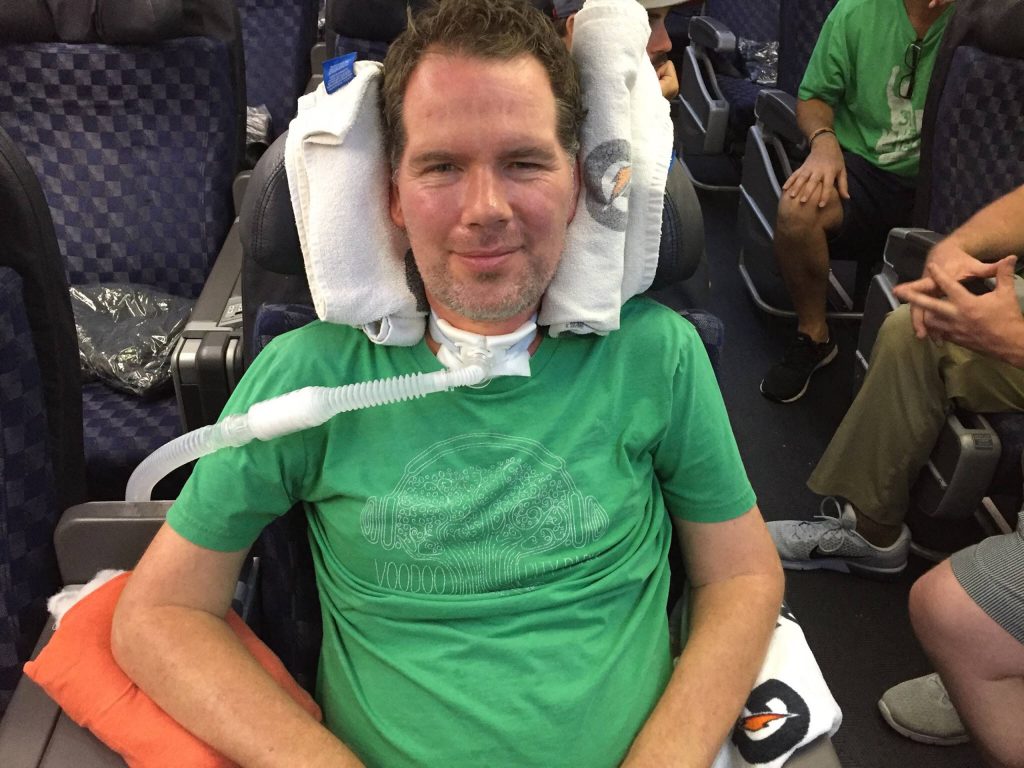 Steve, Michel and the rest of Team Gleason often travel, when they can, to attend conferences or meet with ALS research scientists, and this too can present some challenges. Fortunately, the Envoy and American Airlines teams at Louis Armstrong New Orleans International Airport (MSY) could help accommodate their specific needs for boarding a flight.
When D.R. Silkwood, Envoy MSY General Manager  was contacted by Team Gleason, they discussed how they could "be of utmost service to Steve and his team," says D.R. Steve uses a special wheelchair equipped with medical equipment, so it was necessary for D.R. and the MSY team to know the dimensions of the chair so it could be safely loaded onto the aircraft.
D.R. suggested a "dry run" to "see what the boarding process would actually look like from start to finish," he says. In order to properly board Steve onto the American Airlines Boeing 737 along with his equipment and other traveling members of Team Gleason, D.R. set aside four first-class seats and stored all of Steve's medical equipment underneath the seat.
Fly like family
As the largest regional carrier for American Airlines, Envoy operates many flights carrying passengers who require special accommodations just like Steve. On a daily basis, Envoy teams across the system work to make sure passengers are comfortable and treated like family.
"[Envoy] goes above and beyond to help accommodate customers, and our employees are trained to ensure this will be delivered," says Envoy Manager of Customer Services Policy and Planning Petra Weisshuhn. "We take pride in what we're doing, and try to make it family-like. It's not just a passenger and a number; we want to treat customers as you would your own mom."
Whenever there is a passenger request for accommodations, Envoy Customer Services teams work diligently to communicate with passengers and crews to ensure all bases are covered in their accommodations. Whether it's loading wheelchairs, planning for service animals or reserving a cart service in the terminal, accommodating special needs are at the top of Customer Services' priorities.
"Honored and humbled."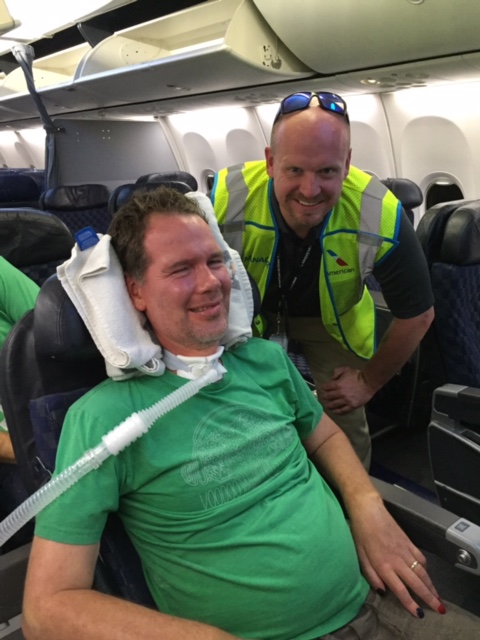 Regardless of Steve's celebrity status in New Orleans and his "block heard 'round the world," the Envoy team at MSY was happy that they could provide service Team Gleason could trust and ensure their comfort. If all goes according to plan, Team Gleason plans to take an official flight sometime in the month of April.
His positivity in the face of adversity is an inspiration to everyone, and playing a small role in Team Gleason's efforts to find solutions to end ALS is an honor and a privilege, says D.R.
"No matter the condition of the passenger, it is our duty to get them from start to finish with absolutely no hiccups, and leave them with a feeling of being truly and genuinely cared about," says D.R. "That's the American way."
If you would like to learn more about Team Gleason or donate to their cause, follow this link.