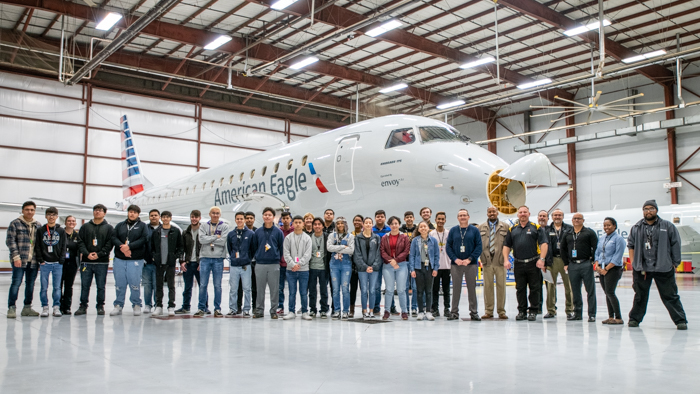 On Tuesday, Feb. 4, more than 20 students from Irving ISD's School of Aviation Science toured Envoy's maintenance hangar at DFW Airport and our headquarters in Irving, Texas. With different interests in the aviation field, from pilots to mechanics to engineers, each student got a glimpse of what goes into running our airline and what the future might hold for them if they choose a career in the industry.
At the hangar, Envoy Vice President of Maintenance Jay Murray, along with aircraft technicians at the base, answered students' questions and gave a guided tour. The students got an up-close-and-personal look at the Embraer 175, its avionics systems, the cabin and flight deck, as well as a spare Rolls Royce AE3007 engine, used on our Embraer 140/145 fleet.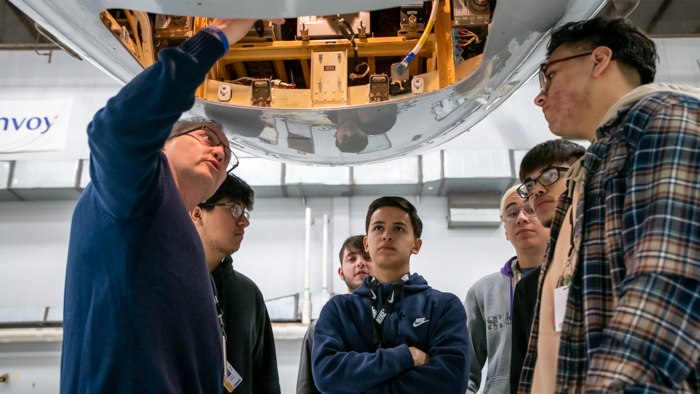 Once their time was done at the hangar (they of course could have hung out there for hours), the group moved on to American's newly-refurbished C.R. Smith Museum to learn the history of American Airlines and see how far the airline industry has developed over time. Next, the team visited Envoy Headquarters for lunch and toured of our cabin trainers and the  Maintenance/Systems Operation Control (SOC) Center.
In the cabin trainers, Flight Attendants Johnny Zachary and Preston Petrosie demonstrated the procedures, safety equipment and routines that go into ensuring a safe and comfortable flight. Director of the SOC Robert Nault answered the many questions students had about what goes on behind the scenes of dispatching flights, coordinating maintenance and staffing the airplanes for Envoy's 1,000 daily departures.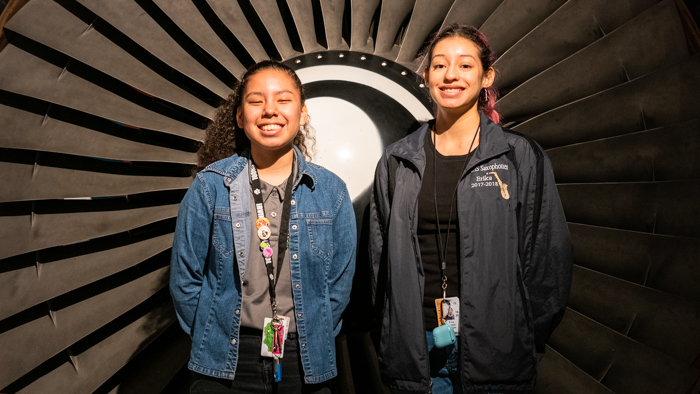 Glued to every word and aspect of the tour were two young women from the program, Angie Maravi Campos (left) and Erika Gamboa (right). Both are on a six-person team that competes yearly in the Real World Design Challenge where high school students from all over the country use engineering to solve real world problems.
For the last two years, the girls and their teams have made it to the national stage in Washington D.C. to show off their design and problem-solving acumen. This year, their problem-solving prompt is to use drone technology to deliver packages to customers homes, which includes business-to-customer interface, delivery logistics and drone design.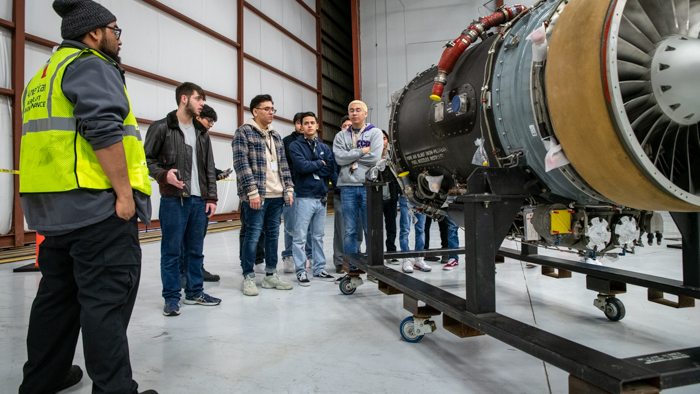 Getting to see our hangar, aircraft and headquarters was a huge eye-opener for them.
"It's not every day that you get to see this kind of stuff," said Erika, an aspiring pilot ."I've seen pictures and diagrams of planes, but it feels different to see it in person."
"As a drone engineer and designer, I have to research a lot of components, so seeing things that are so small on a drone that are really big and complicated on a jet…all I can say is wow," said Angie, an aspiring aerospace engineer. "It all seems so complicated, and all I want to do is understand it and take it apart to see how it works."
And that's the mission for any student tour at Envoy — to inspire and kindle a fire for aviation that is best seen up close and personal. Thank you to all of the volunteers that assisted along the tour, and to all of the Irving ISD students who made it an unforgettable experience for all!