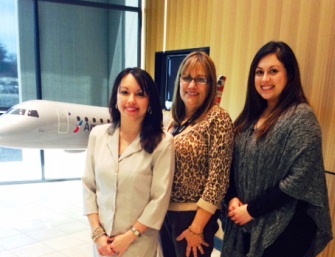 The Federal Aviation Administration (FAA) routinely audits the records of airline Drug and Alcohol screening programs to ensure they are following all required safety procedures. After more than 6,500 test results and records were reviewed by the FAA in January, Envoy came through with flying colors.
"It takes all teams working together to support a successful outcome, but I'd like to offer my special thanks to Jessica Vega and Kristina De los Santos on my team for their dedication and hard work," said Noemi Moreno, Drug and Alcohol Program Manager. "The inspectors commended our program and its processes, as well as the organization of Envoy's records and documents."
Shown here (left to right) are Noemi Moreno, Jessica Vega and Kristina de Los Santos. Great job!