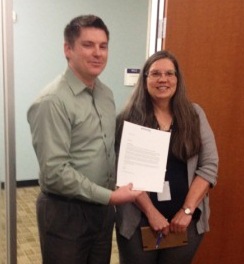 Shown above being congratulated by Finance Director Charles Clark is Jackie Glenn, Manager of Operations Analysis for Envoy, one of our 2014 President's Award recipients. Known for her expertise in operational reporting, Jackie was nominated by her colleagues for going above and beyond to produce critical weekly reporting for the Envoy leadership team that is always accurate and professional.
The Envoy President's Award recognizes individual employees who represent the best of Envoy, consistently going above and beyond – for customers and colleagues alike. Nominated by their peers and selected from among dozens of nominations, 23 employees received the award for 2014.
Congratulations, Jackie!