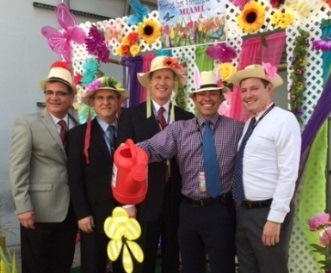 Envoy's Miami team took advantage of a beautiful sunny day to welcome spring in style. More than 500 employees stopped by last week to enjoy the fun-filled event, with plenty to celebrate – in addition to the glorious weather and Envoy's first birthday on April 15, Miami has now racked up more than 400 days without a single aircraft damage!
Envoy President and CEO Pedro Fábregas and John Jaynes, Vice President Customer Service, joined Hub Vice President Migdoel Rosa and the local leadership team for a delicious lunch of ribs and chicken, with all the fixings. "We had a DJ, cakes, cotton candy and a photo booth," said Ramp Manager Seth Haldeman. "But the team especially enjoyed the Easter Egg hunt around the ramp, complete with candy and prizes!"
Shown here proving you're never too old (or fashionable) to sport an Easter bonnet are (left to right) Rosa, Fábregas, Jaynes, Vice President International Operations Jorge Ramirez-Blanco and Haldeman.