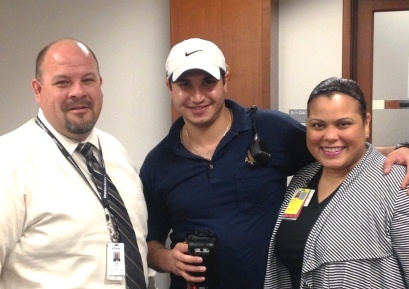 What a way to start the weekend! Envoy Crew Chief Raed Nagib in Dallas/Fort Worth (DFW) was one of 20 lucky winners whose names were drawn to receive $10,000 each!
Earlier this year, Raed was commended by a colleague for his oustanding work and his name was submitted to the American Airlines "Above and Beyond" recognition program. This morning at his quarterly State of the Airline update with employees, American CEO Doug Parker drew 20 names at random from the more than 80,000 Above and Beyond recipients during the first quarter.
Shown here getting the good news is Raed, flanked by Envoy Hub Vice President Greg Ricketts and Baggage Operations Manager Sandra Reyes.
CONGRATULATIONS – and very well deserved!