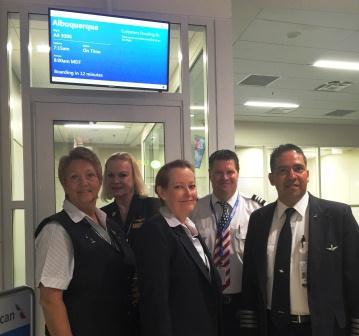 Envoy was honored to carry 25 veterans of WWII from Albuquerque (ABQ) to our nation's capital, as part of the Honor Flight program that celebrates our veterans' service and includes a tour of several national monuments.
"It is an immense honor to pay tribute to these heroes and personally thank them for their service," said Envoy SOC Director Robert Nault, who coordinated the mission. "Spending time with these men and women as they share their history is such a privilege."
Shown above are the crewmembers who volunteered for the flight – many of whom participated in last year's event – include Flight Attendants Chris Salter, Adair Ahrens and Gina Wylie, First Officer Patrick Stewart and Capt. Marco Rodriguez.
For all, the Honor Flight is a labor of love, having personally served in the military or having close family members who served or are currently deployed. The team will carry the Veterans home to ABQ on Friday.