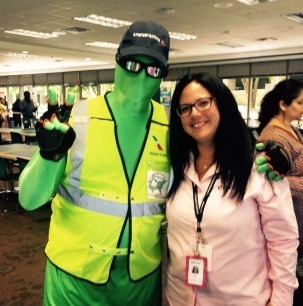 Demonstrating Envoy's absolute commitment to safety – at work, home and play – the Safety team participated in the Safety Awareness for Employees (S.A.F.E.) Day at American Airlines headquarters this week.
Alongside a number of health and public safety organizations – including recycling champion Mr. Green, pictured above with Envoy Safety Reporting Manager Eva Torres – Envoy showcased some of the many products, services and programs we have in place to promote safety during National Safety Month.
Just in time for the hot Texas summer, the team chose Hydration as its focus, and promoted Heat Illness prevention through drinking plenty of water and ensuring that children and pets are never left unattended in hot cars. They handed out water bottles to everyone who stopped by, and demonstrated the Heat App created by OSHA, which lets you know when you are at risk of heat illness if working outside.