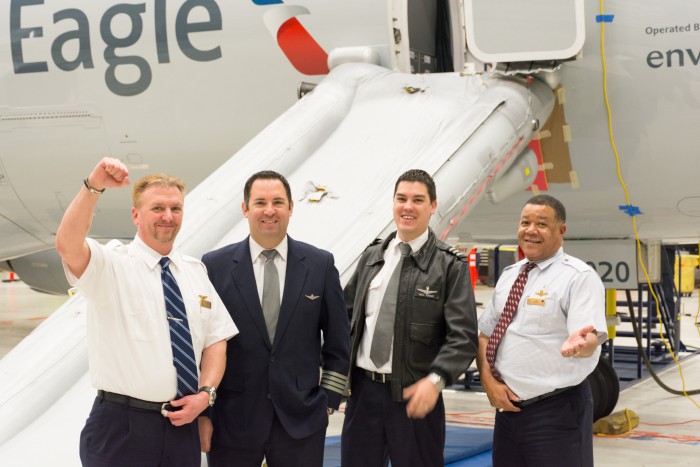 To introduce a new aircraft type to its fleet, airlines are required by the FAA to perform a partial evacuation, or "mini-evac," to demonstrate the effectiveness of their crewmember training program, emergency procedures, required emergency equipment and evacuation slides. Yesterday, Envoy successfully demonstrated an Embraer 175 (E175) evacuation inside the DFW Hangar, gaining FAA approval on another major hurdle we need to pass in order to gain FAA certification on our new aircraft.
"Months of work went into an exercise lasting 15 seconds," joked Linda Connors, Managing Director Flight Service Procedures. "But it's all worth it, as our teams did a great job and we passed on the first try." During the demo, half of the required floor level exits must be opened by the Flight Attendants and the slides must be inflated and ready for use within 15 seconds.
Envoy had a team of six pilots and six Flight Attendants on hand for yesterday's demonstration, with two from each group chosen at random by the FAA to perform the evacuation (shown above). "Our Flight Attendants opened their exits and had the slides ready for use in less than 10 seconds!" said Linda. Pictured above are Flight Attendant Mike McCoy, Captain Zachary Goldberg, First Officer Nicholas Kinner and Flight Attendant Jim Witcher.
"My thanks to the many Envoy team members who supported this successful event," added Jim Winkley, Vice President E175 Program.