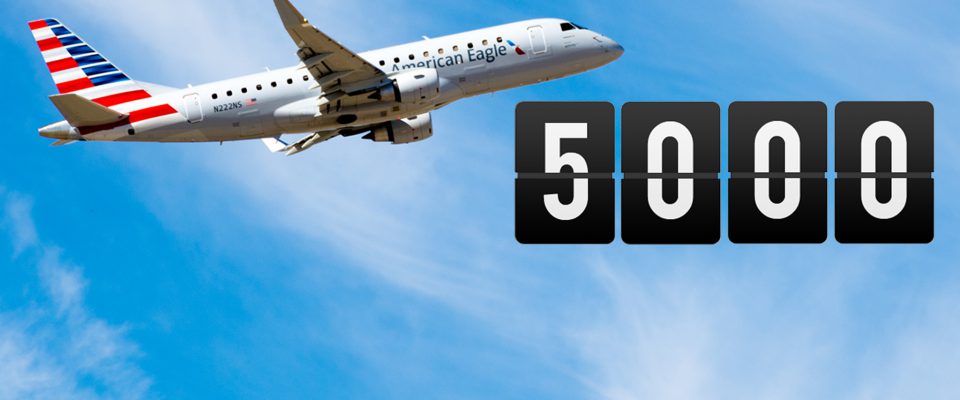 On Friday, June 3, Envoy reached another historic milestone with our growing fleet of Embraer 175 (E175) aircraft – 5,000 departures without a single controllable cancellation. Flight 3248 from Dallas/Fort Worth (DFW) to Omaha (OMA) took off with Capt. Douglas Gibbs and First Officer Jose Portela at the controls and Flight Attendants Laura Sizemore and James McAleer serving our customers.
"Congratulations to Envoy on this impressive milestone!" said Robert Isom, American's Chief Operating Officer. "Clearly the detailed planning and preparation your teams put into the introduction of the E175 has carried through to the daily operation of this new and growing fleet. On behalf of American and all of our customers that you serve, thank you all for this outstanding reliability."
"This achievement is even more impressive, given the weather challenges we've had all week, the transition to a new duty month and the summer schedule change that went into effect yesterday," said Dee Temples, Senior Vice President Air Operations. "Hat's off to everyone for their flexibility and extra effort, through numerous delays, maintenance road trips, crew and equipment swaps – all to ensure we get our passengers safely to their destination."
It's been an especially big week for the E175, as scheduled flying jumped to 80 E175 flights per day, including our first international destination – Montreal (YUL). The next two E175s are expected to arrive from the factory later this month. Keep up the great work!