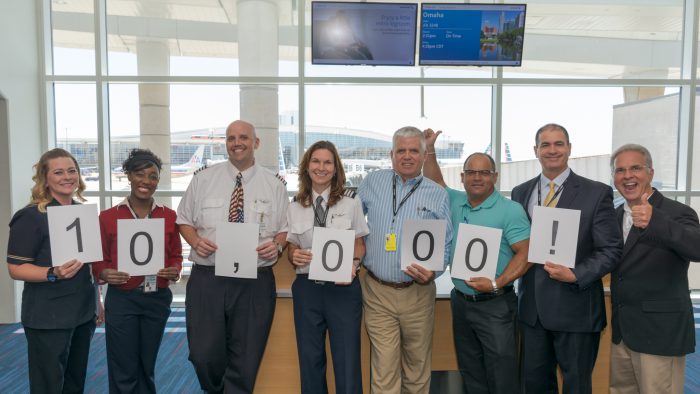 Yesterday Envoy made history, as we became the first Embraer operator in North America to reach 10,000 flights with the Embraer 175 (E175) aircraft without taking any controllable cancellations since the start of revenue service.
"This streak didn't just happen by accident," said Vice President E175 Program, Capt. Jim Winkley. "It takes lots of dedication and hard work, and I want to thank everyone involved. Our E175 fleet consistently performs above Envoy system numbers, contributing to overall operational performance. Let's get out there and keep up the good work."
"Employees – and customers – at the airport were all extremely excited," said Envoy President and CEO Pedro Fábregas. "This kind of reliability is great for Embraer, American, Envoy, and the thousands of customers who travel on our aircraft. Great job, team!"
"This is a great accomplishment by the Envoy team," added American Senior Vice President, American Eagle, Kenji Hashimoto. Congratulations to everyone for this remarkable achievement!
Above, left to right: Flight Attendants Nicole Ingersoll and Brittany Lindgren, Captain Jonathon Barlow, First Officer Patty Herbel, Vice President, E175 Program, Capt. Jim Winkley, Managing Director, Maintenance, Ramon Hernandez, Vice President, DFW Hub, Jose Velez-Rubio and Envoy President & CEO, Pedro Fábregas.
Below, left to right: AMT Crew Chief Syed Ali Faizi, DFW Safety Manager Wayne Cameron, AMT Jesus Martinez, Fleet Service Crew Chief James Young, MOD, DFW Line Maintenance Terry Butler, AMT John Lehfeldt, Managing Director, Maintenance, Ramon Hernandez.