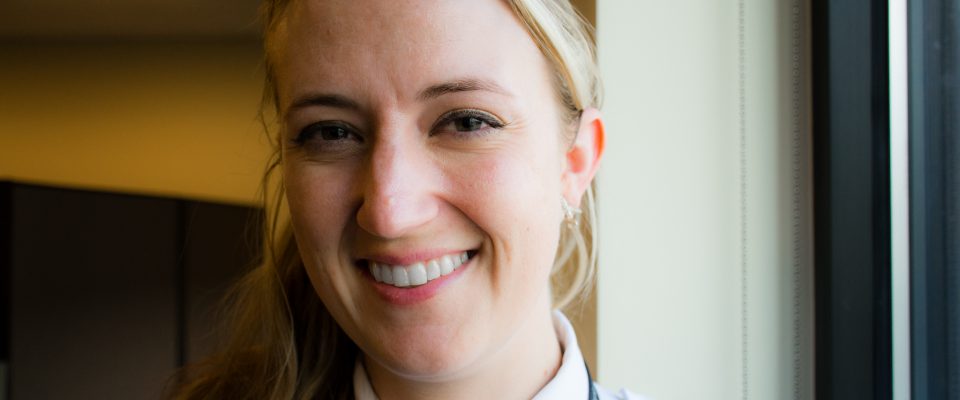 The air traffic control tower of the Pocatello Regional Airport was about as exciting as watching paint dry for then 17-year-old Jessica Hines. She became bored with the internship at the ATC tower until her attention was suddenly piqued by the planes darting across the sky.
She wanted to know everything about those planes and persisted to find out.
"I started asking a bunch of questions," says Jessica. "What is the pilot doing there? Why is he making this square pattern? When does he start his decent? It was that moment that I knew I wanted to be a pilot. I want to be in that seat."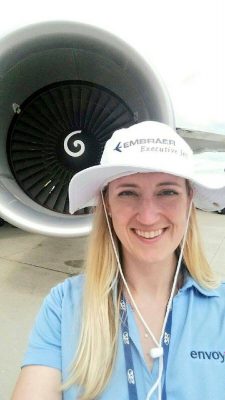 Sixteen years later, Jessica found her seat on an Envoy aircraft as a First Officer currently on track to upgrade to Captain in the coming months. Additionally, she is an integral part of the Envoy Pilot Recruitment team and one of the more enthusiastic pilots at Envoy.
Yet, she wasn't always this keen on flying. At first, she was overwhelmed by air sickness. She couldn't make a decent without her head swirling and her stomach turning. Still, the persistent and resourceful person she is, Jessica trained herself to beat the motion sickness.
She learned that flying affects the inner ear and equilibrium. She wore a magnetic bracelet that helped keep her mind off the descension. She even took ginger pills for six months before eventually conquering her air sickness, and pushed on to pursue her passion.
After graduating from the Aviation Technology program at Utah State University (USU) in 2004, Jessica moved with her husband to his home state of Texas. For nearly two years, Jessica worked as a flight instructor at Pro Aircraft Flight Training in Fort Worth.
She was content with her job, but deep down she knew she wanted to fly commercially. Fortunately for her, flying for Envoy would mean she could stay based at DFW area and fly a jet, which she wanted to do since high school.
Women in Aviation
Even though a career in aviation came naturally to Jessica, the same cannot be said for many other women. According to the FAA's Aeronautical Center, in 2015, only about 6 percent of all commercial pilots in the U.S. are women – and Jessica has made it her mission to increase that number.
She is a member of Women in Aviation International (WAI) and the International Society of Women Airline Pilots (ISWAP). She recently volunteered at her alma mater USU for Girls in Aviation day to encourage young girls to pursue a career in aviation.
Every year, Jessica also travels to Houston to present in the Expanding Your Horizons program that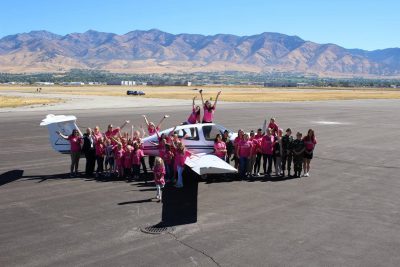 inspires young girls to seek education and careers in the math, science and technology fields. Jessica's job is to motivate young girls to push gender boundaries in aviation, she says.
"It's really exciting when girls come up to you and say, 'I want to do what you do some day'," says Jessica. "One girl came up to me and she said, 'I really liked your talk. Do you think I can stand by you in the picture?' She made me feel like a celebrity!"
As a female pilot, she knows there are challenges for female pilots, but that shouldn't discourage other women. She also notes that apprehension over having a family and working as a pilot can be remedied.
"What I like to tell them is you can have your career and your family, too," she says. "Once you get a good line and you know your schedule, especially at Envoy, you can be there for your family."
Jessica's Office
In addition to bolstering female pilots, Jessica enjoys helping people in the military. Admittedly, she says she has a soft spot for those who serve, and Envoy makes it possible for her to volunteer for different military-related causes. Jessica says she has volunteered a number of times to pilot the charter flights for the Sky Ball and the Lieutenant Dan Band.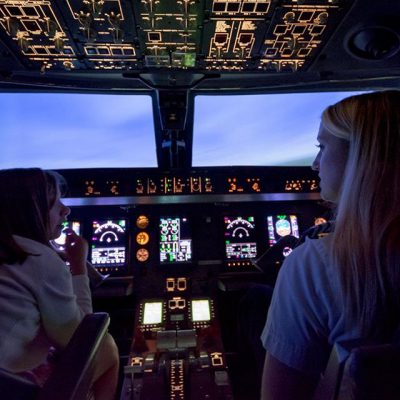 The volunteer opportunities she has are one of many reasons Jessica is proud to fly for Envoy. Another is the recent increase of pay for first-year pilots and pilot retention bonuses. She says this makes her job as a pilot recruiter easier.
She says on top of the high pay, benefit program and travel privileges there is still her favorite parts about flying; the adventure and the views. To think, she may have never experienced this euphoria had she not endured the tedium of the ATC tower sixteen years ago.
"I think every day is a new adventure," she says. "There's always something different. There's always something to learn. Another thing I really love, the sunrises and sunsets from the cockpit are amazing. I have the best and most beautiful office in the world."