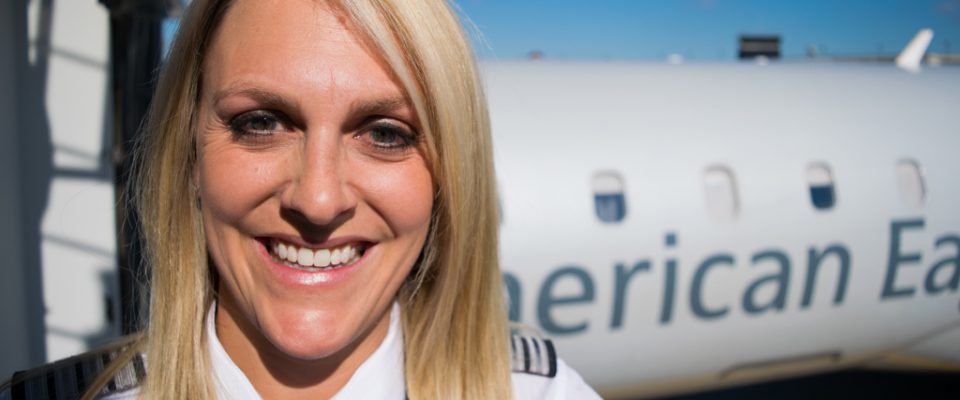 Born and raised in the suburbs of Chicago, Illinois, Envoy Captain Brittany Hanson is right at home flying CRJ-700s out of O'Hare International Airport (ORD).
In fact, the option for her to stay in the Chicago area helped clinch her decision to commit to Envoy. That plus the "support and excellent training" she's received from the company, she says.
Just 10 years ago, Brittany was working as a flight instructor at Purdue University in West Lafayette, Indiana, when she was interviewed on the spot at one of Envoy's Pilot Recruitment events. The rest, as they say, is history.
In a special Women With Wings Q&A, we hear from Envoy Captain, avid Chicago-sports fan and mother of two about her journey from hanging streamer banners on planes to piloting jets.
Her chosen lifestyle
When did you go on your discovery flight, and in what aircraft?
My first flight lesson was a gift for my 17th birthday in high school after asking to learn how to fly for years. I flew a Cessna 152 out of Clow International airport in Bollingbrook, Illinois.
What other pilot jobs did you have before Envoy?
I worked with Clow in Bollingbrook putting together lettering for streamer banners. I was also a Flight Instructor at Purdue University for two years, as well as flying Angel Flights to gain more flight time while an undergrad. I also spent a summer during college flying SR-22 Cirrus out of Essex County Airport (KCDW) in New Jersey.
What was your first flight for Envoy like?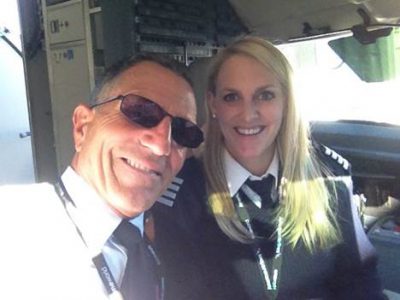 I was excited and nervous. After six weeks of ground school and simulator training in Fort Worth at the American Airlines headquarters, I couldn't believe I was in control of a 75,000 lb. jet!
My Initial Operating Experience (IOE) Instructor was confident in me and talked me through all of my questions. The responsibility is huge, but manageable. You just learn to trust your instincts and training right from the beginning.
When did you realize you wanted to be a commercial pilot? What helped you make that decision?
I knew I wanted to fly for a living, and used to think the flying cargo route was what I wanted. Once I realized that cargo requires long duty days with the majority of flying hours happening overnight, I looked elsewhere.
I transitioned into a "morning person", because I don't mind the early wake ups a few days a week to have a better schedule. Plus, I enjoy interaction with our passengers.
Was there anybody in particular that was instrumental in helping you become a pilot?
My mother was a flight attendant. She was my role model and inspiration into the industry of aviation. I loved her flexible schedule and lifestyle.
Our family took great advantage of her flight benefits growing up, and I was able to travel and experience many places I wouldn't have been able to visit otherwise.
What other hobbies and activities do you do outside of flying?
I enjoy cooking and all Chicago sports. My husband and I recently started our family and have a two-year-old daughter and a seven-month-old son who keep our hands full. We try to go to at least one game a season for the Blackhawks, Cubs and Bears.
This year we had an opportunity to be in Wrigleyville during Game 7 when the Cubs won the World Series! It was a rollercoaster of emotions, but we loved being there to celebrate history as the city erupted when the Cubs won.
Women in Aviation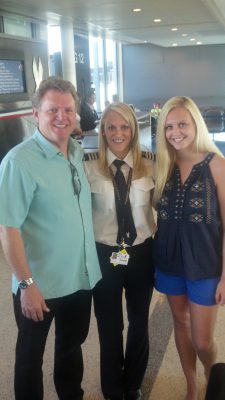 What is your experience like as a female commercial pilot?
When I was brand new, being young and a female, I used to feel like I had to prove myself, but over the years have learned that all of Envoy pilots have had wonderful training and wouldn't be here if they weren't qualified.
It would be extremely hard if you didn't have a great family network, which I do thankfully. They assist me in the everyday juggling of raising a family while I'm away for long periods of time multiple days a week.
What would you say to a young woman who is contemplating a career as a pilot?
You have to be confident, work hard, and know that your love and passion for flying will be both challenging and rewarding. Some days will have maintenance or weather issues that will test your abilities and decision making to the maximum level, and other days you can't believe you are actually getting paid to do what you love.
Have you ever worked on an all-female crew?
I have as a first officer, not as a captain yet. It is very empowering, because a female crew has a strong bond and high level of confidence. I hope to have the opportunity to fly with more all-female crews in the future. This time, as the boss.
Many hats to wear
What's the best part about being a pilot?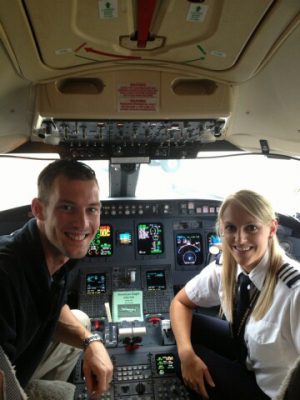 The view is one of the best parts of the job, but I would have to say having a flexible schedule. I have never been a "nine to five, Monday through Friday" type person, so bidding month to month and being able to bid for certain days off have granted me a lifestyle where I can plan appointments, family events, and other hobbies when I might otherwise be working.
What has flying taught you that you can use in everyday life outside of the flight deck?
Flying has taught me to be confident, trust my instincts and know when to take charge of a situation. There are many different hats worn as a captain, mom, wife, sister and daughter.
Believing in yourself, knowing you can do whatever you put your mind to, and using communication in your relationships help in everyday life outside of the cockpit.