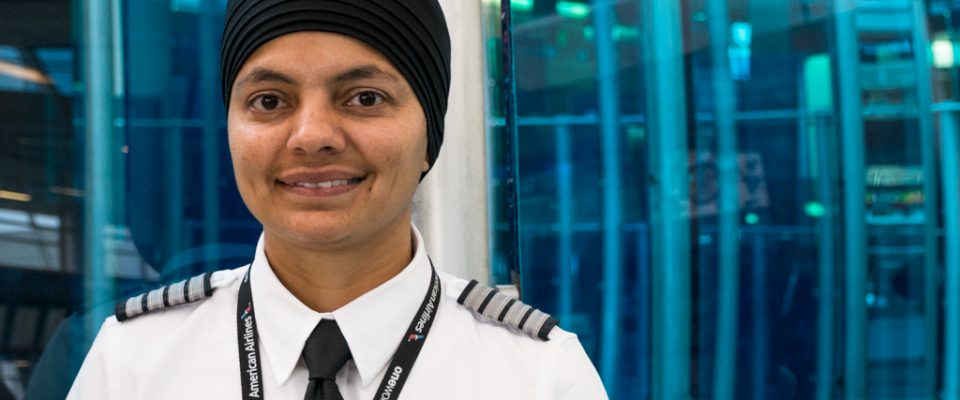 Anyone's first flight has the potential to be a profound one. For the 14-year-old Arpinder Kaur, her flight from India to the United States evoked her desire to be a pilot.
As a child, she says she was a "tomboy". She climbed trees, played cricket and played outside with the boys. Her parents allowed her to be this rambunctious, because they saw how happy she was.
Yet, nothing made her as happy as her very first flight. During the trip, the flight attendant asked young Arpinder if she would like to go inside the cockpit.
This being her very first time to see a plane, let alone fly on one, Arpinder the "tomboy" said yes.
"I went in and sat in the jump seat," says Arpinder. "I was just mesmerized. The uniforms, the view, just everything in the cockpit told me, okay, this is what I want to do when I grow up."
That flight represented the start of a new life for her family. Growing up in India, Arpinder says she felt the opportunity to be whatever she wanted to be waited for her in the U.S.
A slight diversion
However, the dream to become a pilot was set into a holding pattern. Arpinder's parents urged her to pursue a degree plan in Information Technology at George Mason University in Fairfax, Virginia.
Arpinder cruised through her studies and graduated in 2002. The very next day, her boyfriend, Pritpal Singh, proposed marriage. The only caveat; she had to move with him to his home state of Kansas.
Pritpal asked Arpinder whether she would enter a master's program or find a job in IT. That's when she opened up and told her husband that she wanted to pursue her dream of aviation instead.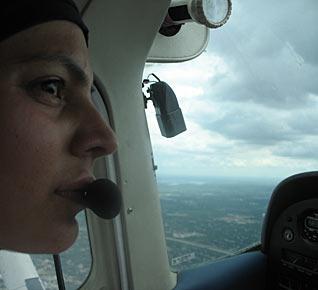 Her husband and his family have always valued education over everything, and supported Arpinder when she decided to go to aviation school. She immediately began with her discovery flight in Manassas, Virginia and then completed the rest of her pilot licenses at Air Associates of Kansas in Olathe, Kansas.
After three years in Kansas, Arpinder and her family moved to San Antonio, Texas to explore new career opportunities. Arpinder climbed the next rung in her aviation career becoming a flight instructor at Wright Flyers Aviation.
She was well on her way to fulfilling her dream of becoming a commercial pilot when her close friend, Kulbir Singh Sandhu, who worked with American Airlines recommended that Arpinder interview with their regional partner American Eagle (now Envoy).
In 2008, Arpinder became an Envoy First Officer on the Embraer 145 (E145). Little did she know, she would be embarking on a barrier-breaking journey.
Women in Aviation
Women make up just over six percent of commercial pilots in the U.S., according to the Federal Aviation Administration's 2015 Active Civil Airmen Statistics. So, as rare as a female pilot is, Arpinder is like feathers on an elephant.
She's the first female Sikh pilot in the U.S. and the first Sikh pilot of any gender to wear a turban on the flight deck. For this opportunity, Arpinder commends American Eagle/Envoy for evaluating her request and recognizing her religious right to wear her turban, or dastaar as they are called by Sikhs.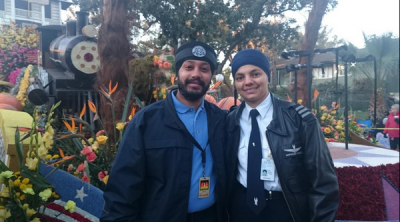 Setting this precedent has pushed Arpinder into the spotlight where she's earned well-deserved press coverage acknowledging her achievement as a woman and as a Sikh pilot in the U.S. She even represented Sikh Americans in the 2015 Rose Parade in Pasadena, California on their first ever float commemorating more than 125 years of Sikh history in America.
Arpinder says she feels a sense of responsibility as the first turban-wearing Sikh pilot. It is important to her to help other Sikhs realize they can take on any challenge and hold any position in the U.S. with or without their turban.
More importantly, Arpinder says she is responsible for teaching young girls the importance of following their dream regardless of gender roles.
"My main thing is to tell them, you are able to do what boys are able to do," says Arpinder. "We have so many strengths. We're capable of so many things. I tell them to pursue those dreams, because you're able to become what you want to become."
Anything is possible
Thankfully, Arpinder followed her own advice and is now an Envoy Captain on the E145. She says her favorite part about her job is during the holidays when she sees the smiles of passengers reaching their destinations safely.
She also feels a rewarding sense of pride when her sons, Insaf and Jivat, write about her in their school journals or draw pictures of her with wings pinned to her shirt. She is thankful to be able to have a family, a career she's dreamed of since her youth and the freedom to practice her religion on her terms.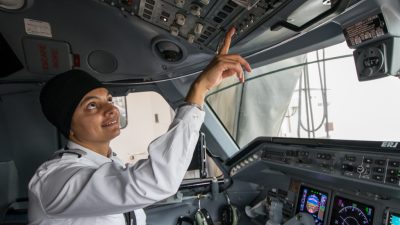 As a Sikh woman, Arpinder chooses to wear the dastaar. She believes that Sikhism, which has no pronouns in their literature, unifies men and women as followers of the religion.
You could say the turban is a perfect analogy for Arpinder following her dream of aviation. As a pilot, the unifying component is bringing people home safely and the love for flying. There are no gender constraints on these principles.
"This turban is a symbol for my career path," says Arpinder. "That's why I am so thankful to [Envoy] for giving me that accommodation so I am able to get this out there in the community, and tell girls that anything is possible."