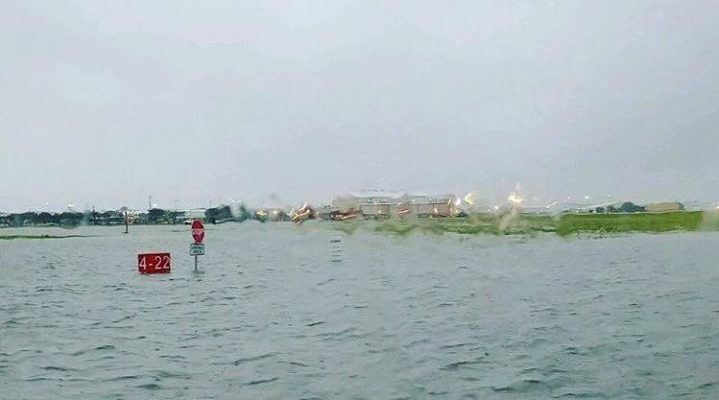 Above: The flooded runway at Houston Hobby (HOU). Image credit: ABC13 Houston.
This weekend, Hurricane Harvey pummeled the Gulf coast, causing wind and storm surge destruction in coastal towns and catastrophic flooding in Houston and areas to the east. Downgraded to a tropical storm after landfall, the slow-moving system is expected to continue drenching the area for several days and recovery will take weeks, if not months.
Houston Hobby (HOU) will remain closed until at least Wednesday, August 29 and Houston Intercontinental (IAH) will remain closed until at least Thursday, August 30.
Today, Envoy will send an Embraer 175 (E175) loaded with supplies to Corpus Christi (CRP), and American will send a Boeing 757 (B757) to IAH to help AAG employees and their families in that area. Employees who have sustained losses in the storm can also apply to the Family Fund, and American is expediting those applications to provide prompt assistance.
You can help, too.
American has activated their Red Cross fundraising efforts and extended those to include the broader Texas and Louisiana community that is now experiencing flooding from the storm. Through Sept. 24, AAdvantage members can earn 10 miles for every dollar donated to the Red Cross, with a minimum $25 donation. Donate today. American also has a Travel Policy in effect to allow customers to reschedule or reroute flights if they have been affected by Harvey.