Yesterday, Envoy operated a special relief flight from Dallas/Fort Worth (DFW) to Key West (EYW) to help support employees affected by Hurricane Irma.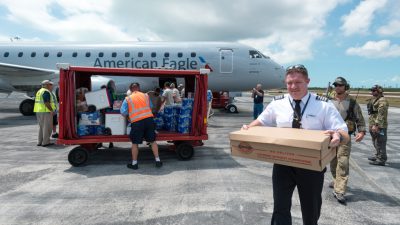 While Envoy SOC worked through the necessary state and federal approvals, the DFW team prepared and wrapped 3,000 lbs. of supplies, including water, non-perishable goods, four electric generators, cleaning supplies and more. The flight also carried more than 150 hot meals to provide to employees and U.S. service members who are currently deployed at the airport.
"Everyone was very happy to see us after being cut off from the outside world," said Vice President, Customer Services, Jude Mayeux, who volunteered on the charter. "It took some amazing teamwork and support from everyone to pull off this much needed relief flight."
"We're here for the long run," added Vice President, International Operations, Jorge Ramirez-Blanco, who also volunteered on the charter. "This isn't just one flight – we'll assess the situation and send more if we need. And there's also the Family Fund, American Airlines Federal Credit Union and more to help everyone get back on their feet."
You can help, too.
American has partnered with the American Red Cross to support areas affected by Harvey and Irma. From now  through September 24, AAdvantage members can earn 10 miles for every dollar donated to the Red Cross with a minimum $25 donation. Donate today.
Additionally, if you'd like to help AAG employees and their families, you can donate to the Family Fund. American will match donations to help AAG team members affected by Hurricanes Harvey and Irma.