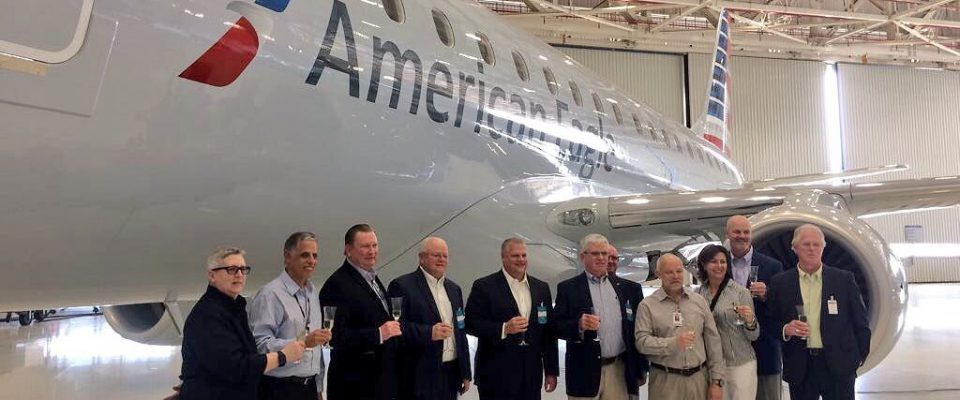 Today, Embraer celebrated the delivery of its 1,400th E-Jet, an Embraer 175, during a ceremony at its industrial facilities in São José dos Campos, Brazil. Envoy was proud to take part in the festivities, taking delivery of the jet on behalf of American Airlines.
Envoy is one of the original ERJ operators and currently has over 100 ERJs in the fleet – today's delivery represents Envoy's 44th E175.
"Going back to our first jets in 1998, Envoy has enjoyed a long and very successful partnership with Embraer," said Pedro Fábregas, President and CEO of Envoy Air. "They take great pride in the aircraft they produce, and it shows in the quality of the E175 being delivered today. Our employees love operating the aircraft as much as our customers enjoy traveling on it, so we are delighted to share in this important milestone. We look forward to receiving 10 more E175s in the near future and operating these outstanding aircraft for many years to come."
Embraer's E-Jet family, launched in 1999, has made its mark in the aviation landscape as Embraer is the only manufacturer to develop a modern family of four aircraft specifically targeted for the 70 to 130-seat segment.
"The E-Jet program, one of the most successful aircraft programs in history, has been instrumental in shaping the 70 to 130-seat market we see today. And to celebrate the 1,400th E-Jet delivery with our longtime friends, American Airlines and Envoy, is truly a special moment for us, especially after they took delivery of their first E175 just two years ago," said John Slattery, President  & CEO, Embraer Commercial Aviation. "We understand that being part of an airline's fleet is also being part of their vision, family, and brand. That's why, as the market leader of this segment, we are committed to continuously raising the standard in order to provide products and solutions that ultimately benefit their customers."