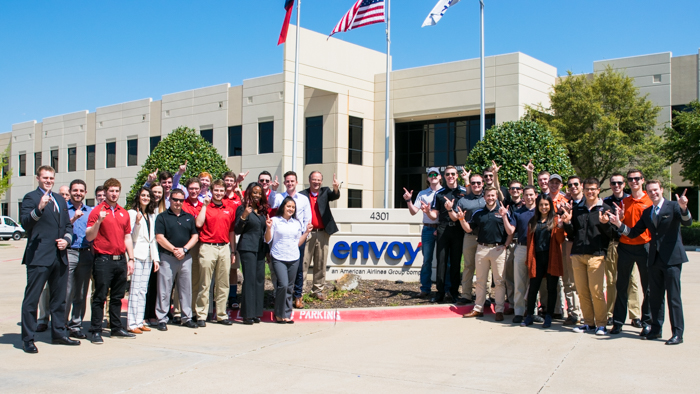 Last Friday, student aviators from the University of Oklahoma and Oklahoma State University put aside their school rivalries to join in a tour of Envoy Headquarters and the American Airlines Training Center. Pilot Recruiters Captain John Colquitt and First Officer Josh Thomas, alumni of OSU and OU respectively, lead the tour and answered all of the student's questions.
Beginning at Envoy Headquarters, students toured dispatch operations in the Systems Operations Control center, the cabin trainers and the flight-training classrooms. Students also heard from Director of Pilot Recruitment Natalie Nielsen and Checkairman Justin Ingersoll who informed them about what it takes to become an Envoy pilot and what to expect during training.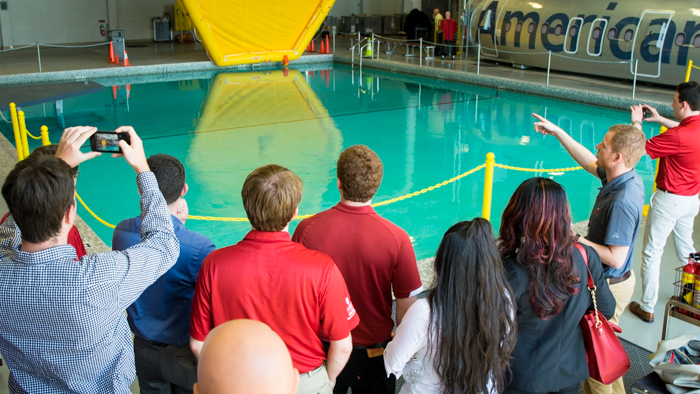 At the American Airlines Training center, the students got a behind-the-scenes look at their flight attendant training facilities, American and Envoy's flight simulators, the C.R. Smith Museum and the Robert W. Baker Integrated Operations Center. American Airlines pilot recruiters Cameron Row and Heather Bowers lead the tour through American's facilities.
"It's always fun anytime we get to inspire young pilots and teach them more about our great company," said Captain John Colquitt. "It's especially great to meet students from our alma maters, because we remember what it was like to be students and work our way up to Envoy. Hopefully, they all choose to come here and eventually flow to American."