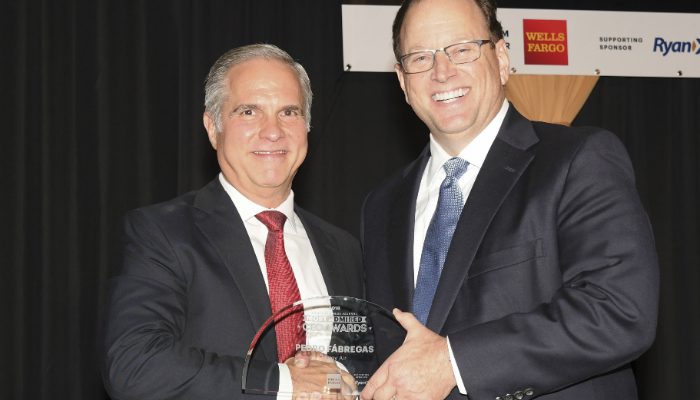 The Dallas Business Journal recently named Envoy President & CEO Pedro Fábregas as one of North Texas' Most Admired CEOs. The publication recently held an award ceremony where they recognized Pedro and 29 other North Texas leaders.  This is the first time the Dallas Business Journal has presented these awards.
"It's quite an honor to be chosen for this award, as I began my career pushing wheelchairs at the airport in Puerto Rico," Pedro said.  "I understand that it takes hard work, perseverance and willpower to become successful. Here at Envoy, we consider our people 'the best of the best' – and we strive to give them the same opportunities that I was given. If they work hard and give it their all, everyone has the opportunity to grow."
Pedro believes that in order to gain trust from employees, you must lead by example.  "I've held many positions during my career that have allowed me to understand firsthand the challenges, struggles and successes of each workgroup. You must also listen – our employees are on the front lines with our customers, and their perspective is invaluable. When you truly listen to their ideas, they are more likely to trust in the leadership team."
All honorees were selected based on a peer-to-peer voting process in which CEOs in the North Texas area ranked colleagues in their industry category.  But that's not all – during the event, Pedro also received a Reader's Choice award after the results of a poll on the Dallas Business Journal's website.
Last year, Envoy set a goal of growing the operation – both the American Eagle regional flying the company performs on behalf of American Airlines and the ground handling work done at more than 100 airports throughout the U.S., Canada, Mexico and the Caribbean.  During the past year, the company has increased the number of flights it operates to nearly 1,000 per day, it has added new destinations to the map, the fleet is growing – and there is an additional fleet commitment for 25 new large regional jets to start arriving later this year, and continuing into 2019, everything under Pedro's leadership.
While operating performance is an integral part of Envoy's success, it is the people who are the heart of Envoy.  "You can only earn the trust of your people by demonstrating integrity and treating everyone with dignity and respect. If you lose someone's trust, it is nearly impossible to regain. And if there's one thing I've learned in this business, it's that the person you supervise today may very well become your boss in the future!"
Photos by Jake Dean / Dallas Business Journal