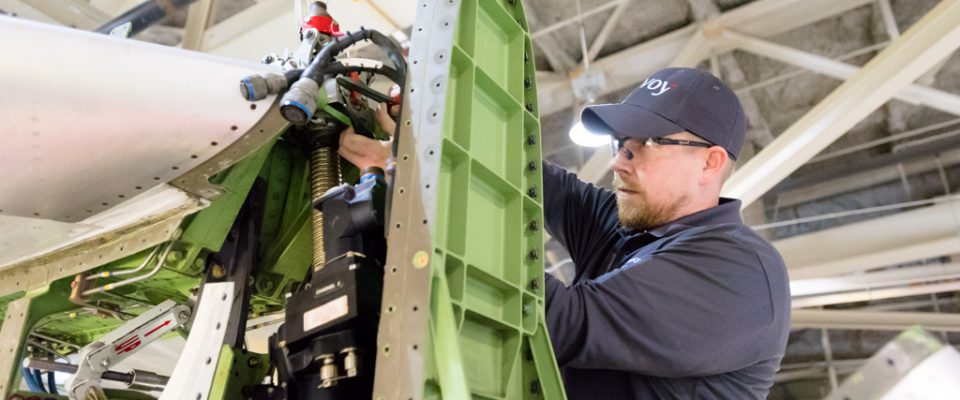 New Military Transition Program valued at up to $11,000

Envoy Air has launched a new Military Transition Program for former and active military service members with experience in aviation maintenance who want to pursue a career as a commercial airline mechanic.
The new program is valued at up to $11,000 and will assist eligible candidates with the specialized training needed to obtain their Airframe & Powerplant (A&P) license. In return for a two-year commitment, candidates receive an accelerated two-week training course, including lodging and meals, and receive a professional toolbox with tools valued at more than $3,000.
"We know the caliber of aviation mechanics who serve in our nation's military and are looking to hire the best of the best," said Jay Murray, Vice President of Maintenance for Envoy. "Our fleet is growing rapidly, and we're preparing now to welcome an additional 40 new 76-seat Embraer 175 regional jets over the next two years."
We're targeting experienced military mechanics who have recently left the military or will soon be transitioning to civilian life.
"In just a matter of weeks, you can earn your A&P license and enter new hire training at Envoy," said Murray. "We now offer all new mechanics a signing bonus of up to $7,500, based on their years of experience. And depending on your base, you may also be eligible for relocation assistance."
"I started my career as an aircraft mechanic, so I know all that this industry – and company – can offer," added Murray. "I encourage any of our veteran mechanics who are interested in an exciting and challenging career to speak to our recruiters about joining the Envoy team."
For more information, see jobs.envoyair.com/mtp for details. Or call (972) 374-5655 or email Envoy.TalentServices@aa.com.