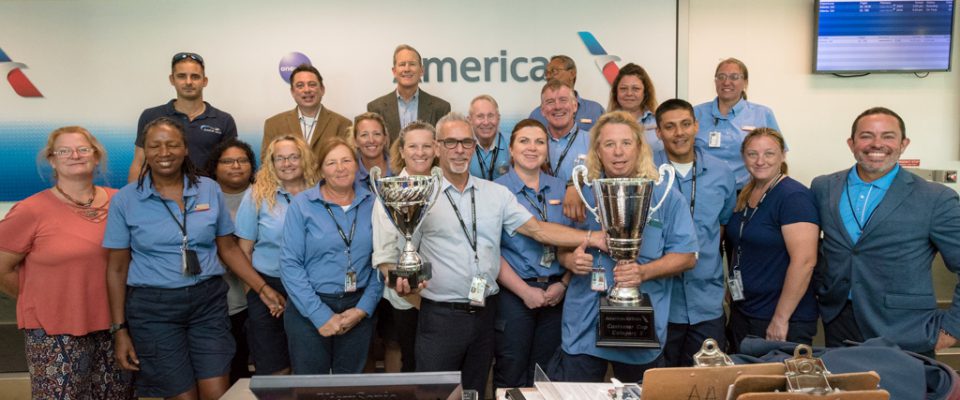 Key West, Florida. Home to crystal blue seas, sunny skies, glistening sands, and now an American Airlines Customer Cup! The Envoy team at Key West International Airport (EYW) outperformed all five Customer Cup metrics in the third quarter of 2018 (3Q18) to take home the station's first ever Cup win.
So how did the team in the "Conch Republic" achieve this win?
In a word, teamwork. "I've been here for five years and we have a great team atmosphere – the best it's ever been," says Lead Agent Angel Mederos. "The new people who've come on board – like Station Agent Don Hinckley – fit in great!"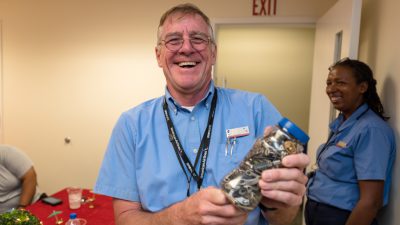 Don joined the team in 2017 and since then has collected every item of Foreign Object Debris (FOD) he's picked up. With just under a year of service and with a jar of FOD in hand, he turned it into a game for everyone during the station's Customer Cup event. "I love it down here – I used to live in Vermont and haven't shoveled snow in years," jokes Don. "We have a good team with good people, and this is my way of saying thanks to everyone for being so welcoming and having me on the team."
After some close guesses – including just six items under the correct total from the author of this article – it was Envoy Vice President International Operations Jorge Ramirez-Blanco who guessed closest to the correct total of 294 pieces of FOD. After a short quiz of his own for the EYW team, Jorge handed his prize over to Station Agent Kelli Marrs  for guessing the correct answer.
Behind the teamwork there's also the pride of a job well done, every day. As Station Agent Veronia Viljoen explains, "There's a lot of pride in this company. You travel to training and meet people from all over the system, and everyone is proud to say which station they come from. I'm proud to be part of the Key West team."
"I joined in October and I love it so far," adds Station Agent Karen Carter. "I worked at EYW for another airline before and Envoy is the better place to be. The culture and flight benefits are great."
"I only joined Envoy three months ago but I'm definitely a conch at heart!" jokes Station Agent Bridget Flores. "I'm retired Coast Guard and enjoy the structure of the airline. Everyone here is keen to do a good job and do it right every time."
That pride of ownership came together in 3Q18 and culminated in the station's first ever Customer Cup win.
"This win isn't just for Key West, it's for the whole community," said Envoy Vice President, Customer Services Jude Mayeux during the station's celebration event. "You all came together after last year's storms and bounced back strong. Like many regional airports, you're a big part of what makes the city special, and we're pleased to celebrate this win with the team and our Key West International Airport colleagues."
"I'm proud of the team for all they've achieved," added Jorge. "We're a family here, and the entire Key West team is doing a great job, day in, day out."
Congratulations to team EYW on their first Cup win!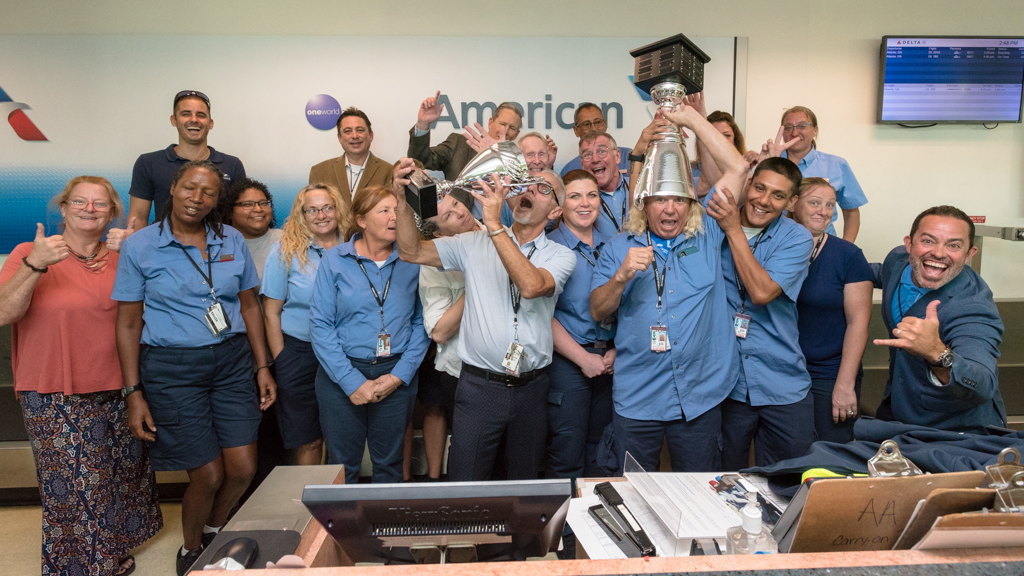 What is the Customer Cup?
The Customer Cup is a quarterly award and celebration organized by American Airlines to recognize stations that demonstrate the strongest performance in Customer Experience.
How do you win?
Each station across the AAG network – both domestic and international – competes against other of the same size and operational likeness. Stations are measured by performance in several metrics, including:
Departure Dependability (D0)
Turn Dependability (T0)
Baggage Performance (MBR)
Customer Feedback
Overall Airport Experience
What do stations win?
Every quarter, winning stations receive the Customer Cup to recognize the efforts of employees at that station. Winning stations are also entered into the running for the top prize in the competition – the Champions Cup – which is awarded annually in the spring.