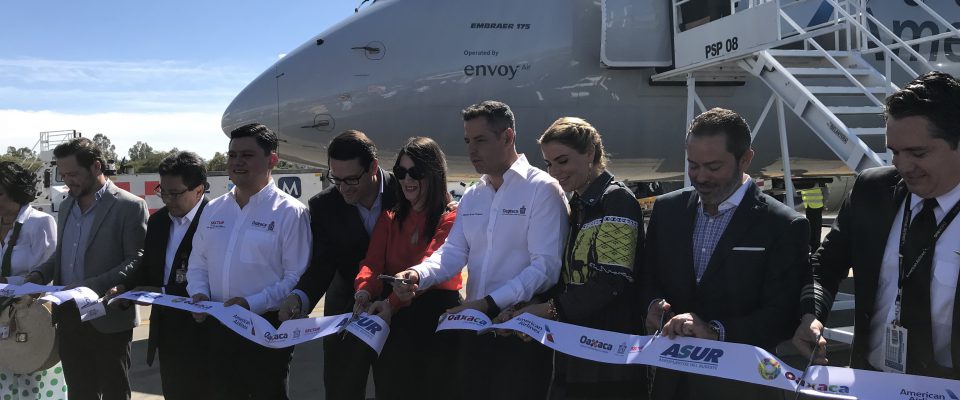 On Dec. 19, American Airlines launched new service from Dallas/Fort Worth International Airport (DFW) to Xoxocotlán International Airport (OAX) in Oaxaca, Mexico. The new route will be served by Envoy with an Embraer 175 (E175), offering customers 12 seats in first class and 64 seats in the main cabin.
Customers on the inaugural flight arrived right on time and were greeted in Oaxaca by a festive celebration, including dancers dressed in Oaxacan attire, the Governor, Alejandro Ismael Murat Hinojosa and other dignitaries.
The crew operating the inaugural flight included Captain Nicholas Kinner and First Officer Roy Reta, together with flight attendants Grace Rees and Karen Embajador. First Officer Reta has close ties to the Oaxaca community, so it was appropriate that he land the first arriving flight.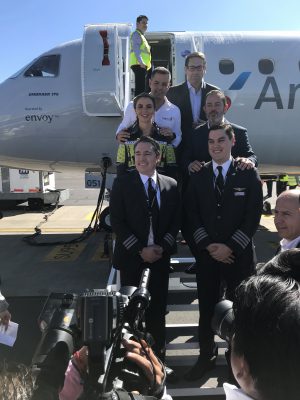 Jorge Ramírez, VP of International Operations for Envoy and José María Giraldo, Director of American Airlines in México were also part of the ribbon cutting ceremony to celebrate the first flight to Oaxaca.
México is the largest international destination for American with service to 22 cities. Oaxaca is a very attractive destination for tourists for its rich art and culture, its cuisine, local festivals and traditions.
"Last year we embarked on a strategy to grow both the fleet and our ground operation, and we made great progress toward those goals. This new flight is a testament of the solid relationship with American and their trust in Envoy," said Pedro Fábregas, President and CEO of Envoy Air Inc.