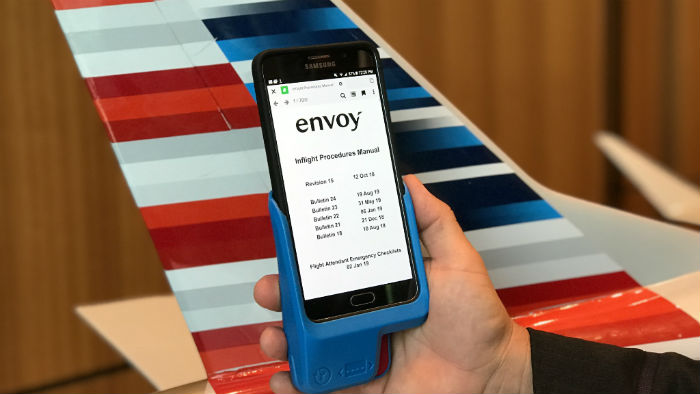 Whether it's bag scanners for Station Agents and Fleet Service teams, Electronic Flight Bags (EFBs) for our Pilots, or tablets for our Flight Service teams, we're investing in technology to make everyone's job easier – on the ground and in the air.
Last week, our Flight Service team reached a major technology milestone by securing FAA approval to use tablets to access a digital copy of their Inflight Procedures Manual (IPM), and we're the first wholly-owned American Eagle carrier to reach this milestone.
"The IPM contains everything Flight Attendants need to know to successfully complete their duties in compliance with FAA and company regulations," explains Managing Director, Flight Service Procedures & Training Development, Linda Connors. "Going digital not only saves weight – Flight Attendants are expected to carry this with them on every flight – but also allows additional features like quick search and the ability to add links to relevant reference and training material in the future. A digital version also means that when the IPM is updated, the latest version is just a button click away. We're all very excited about this new technology."
Every Envoy Flight Attendant is issued with a tablet, which allows them to look up customer information, offer AAdvantage miles as compensation for issues, find connecting gate information, and now, view their IPM document and more.
Interested in joining our Flight Service team? Click here to find out more and apply.