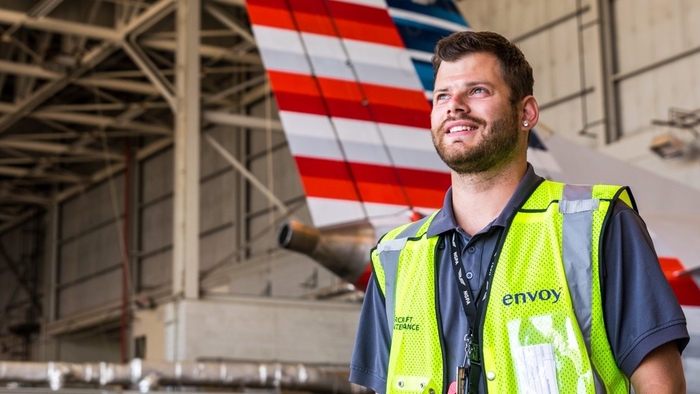 Jordan Jones is unique in many ways. He's a talented photographer, he has an impeccable eye for design, his outgoing personality and smile are infectious, and he's quite handy with a wrench.
Jordan is also deaf since birth. Yet, that never stopped him one bit, and it has become a part of who he is as an accomplished Aircraft Maintenance Technician (AMT) and a great ambassador for Envoy.
Born in the Detroit area, Jordan attended Lansing Community College and their Aviation Maintenance Technology program. After two years of school, training, and certification with the FAA, Jordan earned his Airframe & Powerplant License (A&P), and now maintains aircraft at Chicago O'Hare Airport (ORD).
---
---
Safe & Sound
Many may think it would be tough for Jordan to work on a busy airport ramp, but Jordan, and other deaf mechanics throughout aviation, have proved that it is definitely possible to be safe and a great mechanics.
"The airports are always a loud environment for anyone working on the ramp," says Jordan. "That's why we have hand signals that are standard for all airports. For instance, there's signals to disconnect or connect ground power, install or remove chocks bracing the tires, and the list goes on."
A constant awareness of his surroundings is key to Jordan's safety, he says. "Before I can start working, I check my workplace to see if I can work safely. I also check to see if someone is trying to get my attention. If I don't feel comfortable, I can always ask another mechanic to stay close to me so I can focus on my work safely."
"I knew this was my passion"
Like most who fall in love with aviation, it begins with the planes. As a graphic design student perusing magazines for inspiration, aircraft always flew off the page for Jordan.
That's when Jordan changed his focus to a career in aviation. "Once I graduated aviation school, I knew this was my passion," he says. "I always enjoy every minute of my job."
On a daily basis, Jordan works out on the ORD ramp running oil checks, tire checks, and systems check to ensure everything on the aircraft is operating normally.
"My favorite part of my work is when I fix a plane and then see them get back in the air again," Jordan says. "It is always a good feeling. My absolute favorite time at work is when my mother saw me from onboard a plane and yelled out, 'that's my son fixing the plane!'"
Go your own way
Jordan is always thankful for the opportunity to fix planes for Envoy. He says he's learning something new every day, and he's grateful for the guidance from his coworkers.
"They always treat me just the same as everyone else," he says. "They never let me feel like I am less important because I am deaf. They always have my back whenever I need it."
That kind of positive reinforcement goes a long way in maintaining his enthusiasm for aviation and Envoy. In fact, you can check out some of the spectacular photos he takes out in ORD and on his amazing vacations on Instagram, and get a feel for what it's like to work out on the ramp and how much he loves being an AMT.
Meanwhile, only two years into his service with Envoy, Jordan says that he still has a lot to learn. In order to become a better mechanic, he says that he "needs to stay patient, stay motivated, and keep growing."
Jordan is just like anyone else in the airline industry. He's passionate, he's enthusiastic and he's always looking to improve – he just does it his own way.