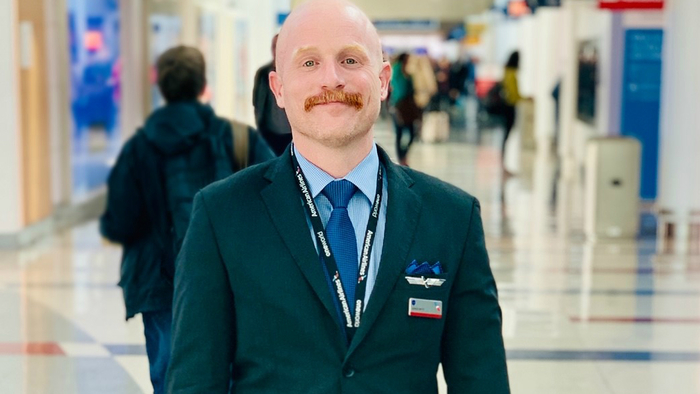 Flight Attendant Lance Smith says he chose to become a flight attendant for many reasons — his experience in high-end retail and fulfilling a longtime dream of his mother. The 36-year-old artist from New Mexico and Oklahoma was drawn to life as a flight attendant for another great reason, adventure.
Let's hear from Lance in a Q&A all about his first six months on the job as an Envoy Flight Attendant.
"Passion to see it all"
Why did you choose to apply for a Flight Attendant position?
I decided I wanted something different and I always remembered my mom's dream to become a flight attendant. She spoke often about flying, and I fell in love with her dream.
My mom passed when I was 20 years old, and when I decided to apply to be a flight attendant, it makes me beyond happy to follow her dream. I have also never turned down the opportunity for adventure.
I have lived in many places and seen many wonderful sites, and that passion to see and do it all, along with my background in customer service, made aviation the perfect career path.
Why did you choose Envoy? 
Envoy airlines is one of the leading regional airlines, and as an American Airlines wholly-owned carrier, I felt it was a great place to start an entirely new career.
Envoy and American prides itself on being the best, so why not learn and grow with the best?
What did you think about training?
I was pretty nervous about the training before I even got on the plane to Dallas – it had been years since I had been in a classroom. When I got to the training hotel and met other people who would be in my class, I realized everyone was nervous and we were all in the same boat.
The next four weeks were intense. There is a lot of information, there is no denying that.
We were at the training center six days a week at all sorts of hours, and every day was something different. Looking at it now, that schedule was preparing us for the work schedule this career has.
We were told though to just trust the system and we would be fine, so any time anyone got overwhelmed, we reminded each other to just trust the system. The instructors were great about keeping us aware of everything coming up like tests.
That helped my class prepare for the tests immensely. If the test covered drills, we would do them in front of each other until we all got them right.
None of us felt alone through the process and we had a no man (or woman) left behind policy. At times it was also a very emotional experience, and we all leaned on each other during those times. We made our own little family.
What advice would you give to someone about to go through flight attendant training?
The advice I would give to new trainees would be to relax, have fun, but know why you are there – don't let anything take away your wings. You got to training, you're doing it, now it is all up to you.
You will be surrounded by a lot of people you do not know, learning a lot of new information, and you will be tested. Don't let yourself get distracted, take care of yourself, rest, study, cry if you need to, don't eat too much because you will have a uniform fitting, and like I was told by my instructor, you know this.
You never know what to expect
What is your favorite part about being a flight attendant?
My favorite part of being a flight attendant is the people. For instance, I did a three-day trip with this flight attendant, Kimberly, who has been flying for a long time, and she and I had the best time on that trip.
I also have met passengers who were amazing. Once, I was at the gate waiting for the aircraft to arrive, when I thought I recognize the woman standing in front of me.
Well, I had, sort of… it was Lori Petty, she is in several of my all-time favorite movies (Tank Girl, A League of Their Own, Orange is the New Black), and the second I said that, I knew immediately who she was. Then she took my cell phone and said, "Let's take a selfie!", and she started snapping away.
You really never know who you will run into on your next assignment; that is part of the adventure!
What do you think makes you an exceptional flight attendant?
I do my best to elevate the passenger's experience wherever I can, in small ways or in big. We work with people all day long, so sometimes we are given amazing opportunities to really show passengers we care.
Last December on a flight, I noticed s little boy had left his Gameboy case with ALL of his games on the plane. I put myself in his shoes, and if I were six years old and just lost all of my Gameboy games, my Christmas would be cancelled.
I walked over to their terminal and waited at the gate for the family to arrive. After about an hour, I saw them walking up, so I walked up and asked him if he lost anything, and held up the case.
That holiday I was working and wasn't able to spend it with my family or friends, but making sure he had a great Christmas absolutely made my holiday. I don't call myself an exceptional flight attendant, that was me just doing my job, and the feeling I got from that was exceptional.
What do you see for yourself in the future at Envoy?
What my future holds at Envoy has endless possibilities. In training we had both Pedro Fábregas and Linda Kunz come in and talk to our class.
Their stories were inspirational; how Pedro started in aviation pushing wheelchairs in the airport, or Linda as a flight attendant, and now he is the President & CEO and she's the Vice President of Flight Services.
I am so glad they came in and spoke with us, and those stories have stuck with me as to the opportunities this career holds. To speak of my goals with Envoy six months in, I am still seeing how far the possibilities can take me.