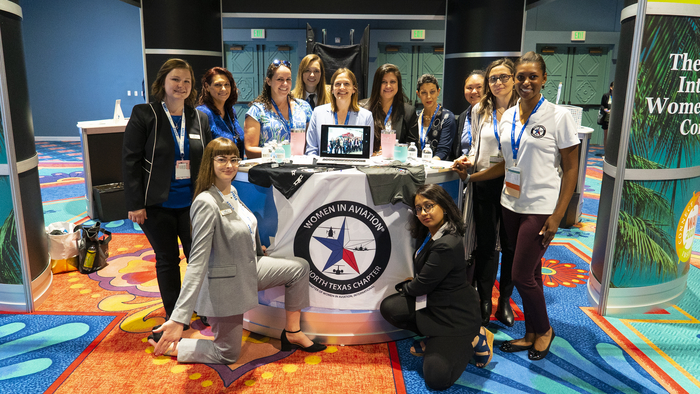 Cover Photo: The women of the North Texas Women in Aviation International Chapter.
We're glad that two weeks ago (March 5-7) we got to spend time with the amazing women aviators at the 2020 Women in Aviation Conference, before the current crisis and necessary social distancing our world is facing. This year, hundreds of women gathered at Disney's Coronado Springs Resort in Orlando, Florida to network, seek employment, mentorship and learn more about what the aviation industry has to offer women in their careers.
---
---
"Really this is a celebration of diversity, jobs are given out here, as well as networking opportunities getting to know the industry as a whole," said Liz Bogdan, Pilot Recruitment Outreach. "We think it's really important to promote this, and be a part of the change in culture in aviation."
Women in Aviation International (WAI) has chapters all over the world supporting not only pilots, but all of the other lines of work in the dynamic aviation industry. Joy Forest, who belongs to the North Texas WAI chapter, began her career as a pilot, but eventually found that she had more interest in becoming an aircraft mechanic.
"I was drawn to aviation as a young kid," said Joy. "I got my pilot's license, but then I just realized that the maintenance side of things and taking things apart and putting them together — I love that! All of us here are here to bring up the younger members of our community and expose them to careers and opportunities within the aviation industry."
One way that airlines and other aviation organizations contribute to inspiring youth in aviation is by offering scholarships to the most talented students worldwide. This year, Envoy offered two $5,000 scholarships: the Future Airline Pilot Scholarship to Envoy Cadet Karlie Emery of Southern Illinois University and the Future A&P Mechanic Scholarship to Travis Plenton of Lansing Community College.
At a conference like WAI, which also celebrates the industry as a whole, there's a focus on minorities like women and people of color who are sewn into the fabric of aviation; just like Envoy Captain Larissa Fernandez.
She mentioned that she gathers inspiration from the many women in attendance who have the same interests and challenges as her. However, her greatest role model doesn't come from aviation, but rather the United States Supreme Court.
"I think a woman that comes to mind is Supreme Court Justice Ruth Bader Ginsberg because of everything she had to overcome," said Larissa. "It's so inspiring to see someone at the highest office of our justice system that overcame all of that throughout her career. Any woman who has overcome the difficulties and the struggles of being a minority, that's my role model really."
As a hispanic woman who has accomplished a lot in her career, Larissa echoes the same advice WAI and it's members have for young girls and women who aspire to join the aviation industry.
"Do not give up," said Larissa. "Follow your heart, do not let all the societal and external pressures that we as women face bring you down, and take that motivation away. Use that, and transform it into your motivation to become who you want to be."