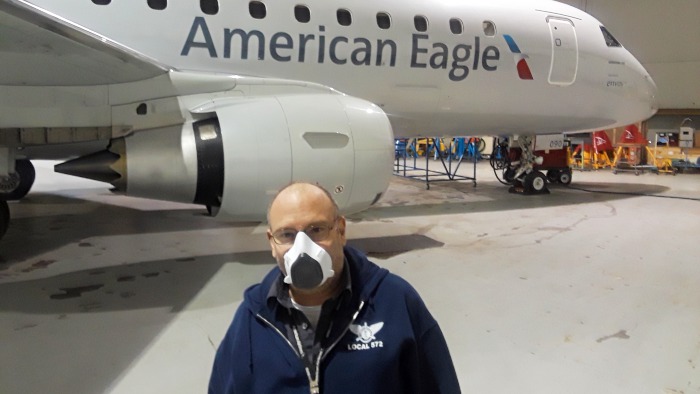 Cover photo: Envoy Inspector Mechanic Humberto Montalban wearing his mask at the Columbus, Ohio hangar. 
With innovation and technology being a major tenet of aviation, it's only fitting that, during this pandemic, an Envoy mechanic would use his technical know-how to improve upon the homemade-mask movement. Humberto Montalban, an Inspector Mechanic based in Columbus, Ohio was inspired to make 3D-printed masks and face shields after he saw how the shortage of supplies was affecting frontline workers.
Humberto, 57, said that through a Facebook group of 3D-printing enthusiasts, he learned a lot about how to design the perfect mask. Now he's been on a tear printing masks for his family, friends and coworkers, as well as continuing to send equipment to his son-in-law in New York so he can distribute to first responders and healthcare workers.
Make it work
Beginning about four years ago, Humberto began tooling with 3D printers to make unique modifications to his remote-control drones. Using his Creality CR-10 and CR-10s model printers, he has the ability to create hi-grade products in his own home.
With each project, including making masks, there's some trial and errors. Through open-sourced designs for the 3D models, Humberto is able to tweak other's designs to perfection.
"COVID-19 took the world by surprise, so we in the 3D-printing community geared up in order to help to first responders and hospitals," said Humberto. "First I gave them to people in need like in New York, then I started giving them away to neighbors. I've made some for my family and friends, but eventually I will run out of materials, so it's important to dial-in the design as to not waste anything."
Come together, right now
Humberto began his airline career with Eastern Airlines, held various positions with several aerospace and engineering companies, and eventually came to Envoy in 1999 to work on a beloved "little airplane," the ATR 72, he said. Humberto's parents, now retired physicians, are part of the reason why he found himself contributing to the cause.
"I guess it's in my blood to run into the fire and help," said Humberto.
Growing up in Central America, Humberto said that epidemics were a common occurrence, so he's seen firsthand how a disease can devastate a community.
"Epidemics were the dish of the day when I was growing up, so I've seen how communities are affected by disease and how they can get better," said Humberto. "This is a time when we all have to come together to give what we can."
Not only is Humberto sharing the hi-tech masks he made, but he also wanted to share his designs with anyone who wants to give it a try on their own 3D printers. Click here to download Humberto's design template (.STL file) from Facebook.
---
Know any more "silver linings"? Send us an email at Envoy.News@aa.com. We'd love to share your stories of perseverance and hope during this COVID-19 crisis.