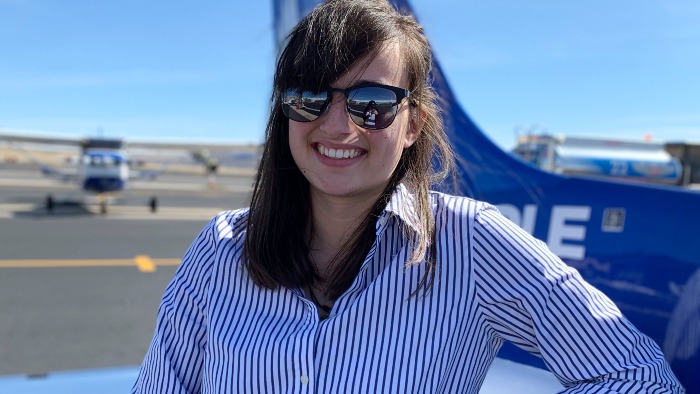 Cover photo: Envoy Cadet Mikayla Quesenberry after completing her commercial single engine checkride. (Photo courtesy of Mikayla Quesenberry)
Pride Month is here, and it couldn't have come at a better time. It serves as an important reminder that our national community, including our aviation industry, is made of many parts working together for the good of the whole, and that each part matters.
As part of our goal to increase diversity and inclusion, Envoy intends to listen to all points of view and celebrate what makes us all unique. One such unique person is Envoy Cadet Mikayla Quesenberry, who was kind enough to tell us all about her pathway to aviation, as well as who inspires her to grow as a person.
No looking back
When did you get interested in becoming a pilot?
Throughout high school, I thought I wanted to join the military. When I was a senior, my football coach, who served 20 years as a pilot in the U.S. Navy, knew my learning style and my interests, so he encouraged me to go to aviation college.
What was your discovery flight like?
I was eventually accepted at Embry-Riddle Aeronautical University — Prescott (ERAU), but I had still never flown in a small plane. A family friend of mine had a Piper Arrow, and his Certified Flight Instructor (CFI) took me up for a ride.
I fell in love with flying that day, and I haven't considered anything but a career in aviation since. After that, I did everything I could to become the best pilot I can be.
Why do you want to become an airline pilot?
Becoming an airline pilot was never a big dream of mine, as it is for some, but I have always wanted a family to support. Being an airline pilot would allow me to provide for the people I love.
My father is an engineer for Union Pacific Railroad, so I grew up in a family where one parent was gone for a couple days at a time. Growing up and seeing this dynamic has given me faith that I can raise a family as an airline pilot.
"Not just a number."
Why did you choose the Envoy Cadet program?
I was first exposed to the Envoy Cadet program at the National Gay Pilots Association (NGPA) Diversity and Inclusion Summit in Fall of 2019. I was volunteering at the event on behalf of the NGPA ERAU-Prescott Chapter, and met a few pilot recruiters.
When I met the Envoy recruiter, not only did they give me information about Envoy and their cadet program, but they were completely transparent with me as to my options. They saw me as a human being and not as a number or employee, and that made all the difference.
That reflection of Envoy is what made me decide to apply for the program.
How do you plan on earning your hours to become a First Officer with Envoy?
I plan to work as a CFI at Embry-Riddle Prescott. I am working on signing a two-year contract with them, and then transition to Envoy at the end of those two years.
I decided to stay at ERAU because it is where I completed all of my flight training. I like the learning environment, teaching and students, as well as the leadership at ERAU that is very supportive of me and my development as a pilot.
Being a Cadet Instructor is a constant reminder and goal of something greater in my future. Flying Cessna 172s for two years might not seem interesting for many, but for me it is about helping students learn and building pilots from scratch.
Be brave, speak up
What does Pride Month mean to you?
Pride Month is not only about celebrating diversity and inclusion in the LGBTQ+ community, but also reflecting on how we got here. It is about respecting all the LGBTQ+ leaders and pushed for equal rights for all of us.
What do you think about Envoy's ongoing support of the LGBTQ+ community in aviation?
Envoy's support is so visible, and that is why I value being a cadet. Being introduced to Envoy at a NGPA Diversity and Inclusion summit, and then again seeing leaders and recruiters at the NGPA Winter Warm-Up reinforces my view of their support.
They support the mission to make aviation a diverse and inclusive work environment for all aviators.
Who are your heroes?
My heroes in my life will always be my parents. They have always supported my dreams and goals, and supported me as a person — when I came out to them as bisexual, they only ever wanted to protect me and stand up for me.
Martin Luther King Jr. has also been a hero of mine since I was little, because of his outspokenness and bravery. I remember memorizing his "I Have a Dream" speech as a kid. And naturally, I look up to Amelia Earhart for flying against the odds.
What are your goals for the next few years?
My goal over is to grow as a pilot and a person. Also, to be a safe pilot and teach others to do so, to continue to grow in my career, and kindly and gently accept people for who they are and who they want to be. Just as my mentors have done for me.