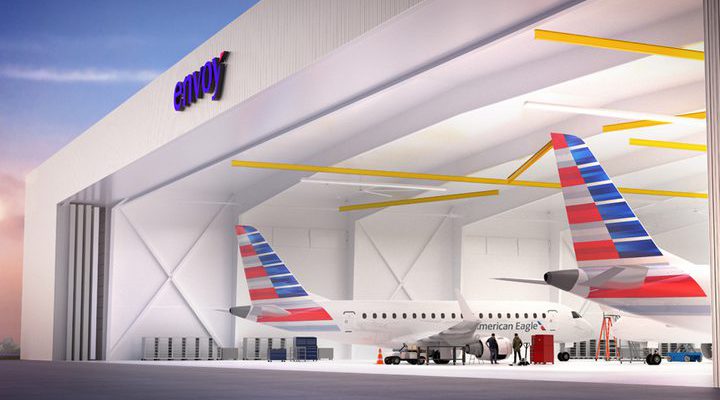 Envoy will expand its aircraft maintenance operations in Springfield, Missouri (SGF) by moving into a new and bigger facility owned by the Springfield-Branson National Airport. This facility, which will be ready later in 2021, will allow Envoy to maintain more modern aircraft, which will create more jobs in the Springfield region, as well as additional potential for enhancements to air service in the future.
The installation will allow Envoy to service more modern Embraer E-175 aircraft. It will have space to house three aircraft inside, with additional room for more aircraft outside, dedicated areas for parts storage, training, employee parking and administration. While this expansion project has been in development for more than a year, current circumstances have only increased the need for these particular aircraft.
"The new facility will allow scheduled overnight maintenance for up to three E-175 aircraft and provide line maintenance for the daily American Eagle service from Springfield to American's hubs in Charlotte, Dallas/Fort Worth and Chicago," said Jay Murray, Vice President of Maintenance. "It will be staffed by Envoy employees, including Mechanics, Inventory Control Clerks, Management and Support personnel. We thank state and local officials at the Springfield-Branson National Airport, the airport Board of Directors, and the Chamber of Commerce for their continuous efforts and partnership. This new facility will continue to support our maintenance operation."
Chamber economic development staff worked with American to access statewide incentives, including Missouri Works and Missouri One Start Customized Training to help meet the airline's specific needs for this facility. In addition to creating new jobs and investment, this expansion demonstrates American's commitment to ongoing air service in the Springfield region. The project will also benefit Missouri as a whole with new jobs that will attract and retain talent from aviation training programs around the state.
"We're excited to see Envoy Air grow and expand in the Springfield region," Governor Mike Parson said. "These new jobs and investment are great news for the state of Missouri that will help reinforce our connectedness to neighboring states and the entire country."