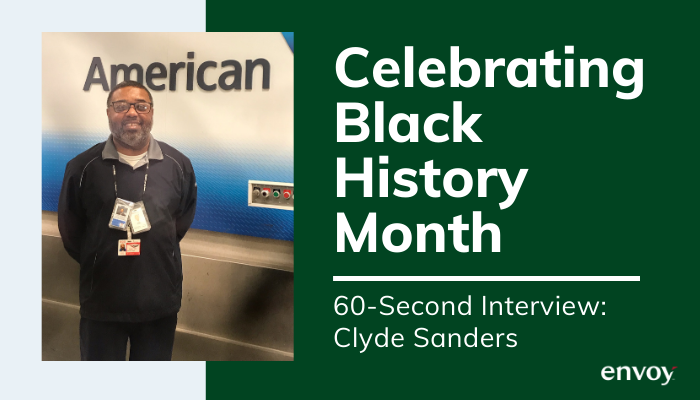 In commemoration of Black History Month, we're sharing a series of 60-second interviews with employees and leaders from all across the company. Let's hear from Clyde Sanders, who is a dual-station General Manager of Customer Services at Tyler Pounds Regional Airport in Tyler, Texas and East Texas Regional Airport in Longview, Texas.
---
When did you get your start in aviation, and what was your first position?
I got my start in the aviation industry with Metro Airlines in August 18, 1989. My first position was as a customer service agent.
What did you learn then that you believe has helped you achieve the position you're in now?
I learned all the facets of being in a smaller, outstation operationally as an agent. Then I went on to learn the nuances of the business when I became the area sales manager, and then the general manager after that.
What does it mean to you to celebrate our African-American heroes, historical figures, pioneers and visionaries?
Celebrating our African-American heroes and others means a great deal especially in today's climate. Now, it's even more important to honor the achievements by people of color and have them be showcased and recognized, as they played a major part of moving this country forward to where it is now.
Beyond the achievements in athletics, look at the inventions by people of color, the advances in technology and mathematical sciences. Just look at the ladies in the movie "Hidden Figures," and more recently, take a look at Dr. Kizzmekia Corbett who is the key scientist behind the Covid-19 vaccine. It just means a lot to see such amazing achievements!
Why is it important to you that Envoy is a company made up of so many diverse backgrounds?
It is important to me that Envoy continue to be a very diverse company because it will be a true representation of the world in which we live.
Tell us one "Fun Fact" about you that many people might not know!
I am a huge fan of the San Antonio Spurs because of David Robinson — we both served in the United States Navy. I call myself a Super Fan!
I am also a big fan of the TV show "Bizarre Foods." I like weird and interesting things like that!