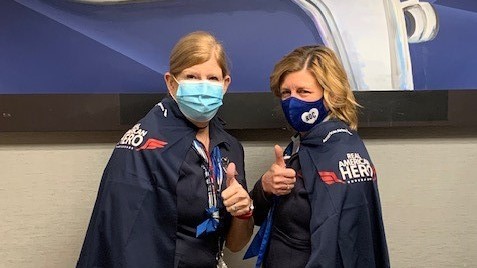 When an elderly customer entered Greater Rochester International Airport (ROC) with his bike and began shaking, ROC Lead Agents Renee Ostrowski (left) and Karen Cooper (right) took note. Approaching the gentleman, who appeared confused, the pair contact local airport authorities who provided an emergency blanket and took him away to hospital. The pair later discovered that the individual had borrowed the bike from a care facility located 10 miles away and was close to experiencing hypothermia due to the extreme cold winter weather.
"Rather than avoid the situation, Karen and Renee went out of their way to help this individual get the help he needed during cold winter weather," said ROC General Manager, Kathy Rice. "They are both true heroes in my eyes!"
To recognize the pair's commitment to customer safety, both received a Real American Hero award, which comes with a $1,000 prize and a very special hero cape.
Way to go, Renee and Karen!