Maybe you've heard this before, now is the best time to become a pilot. Well, here's proof.
Envoy is now offering $175,000 in bonuses to incoming First Officers who have flown more than 750 hours in Part 121 or Part 135 operations. An extra $7,500 will be given to experienced First Officers who are type-rated in the Embraer 145/40 or 175 — that's a generous $182,500 sign-on bonus!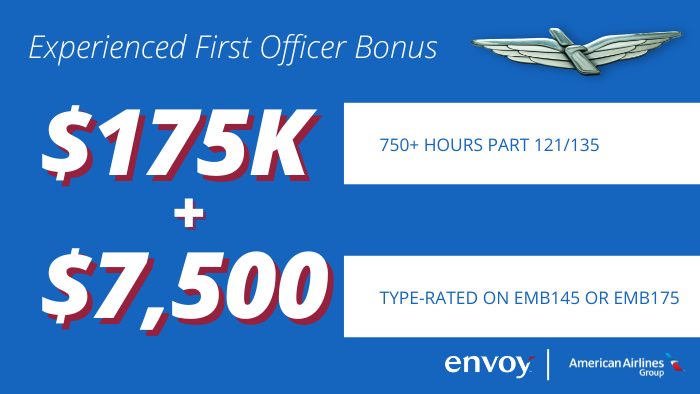 In addition to bonuses, Envoy offers:
Industry-leading pay – First Officer starting pay is now more than $50 per hour.
Exceptional training – Envoy has a reputation for leadership in airline pilot training and is highly respected among its industry peers.
Preferred crew bases – Envoy shares hubs with American in Dallas/Fort Worth, Chicago, and Miami, with paid hotels for training and commuting.
At Envoy, we're in the business of connecting people. Whether it's connecting passengers to their destinations, or connecting employees to their future careers, Envoy wants to see you succeed. 
Read to apply? Click here. 
Questions? Contact us at Envoy Pilot Recruitment at (972) 374-5607 or email EnvoyPilotRecruitment@aa.com.