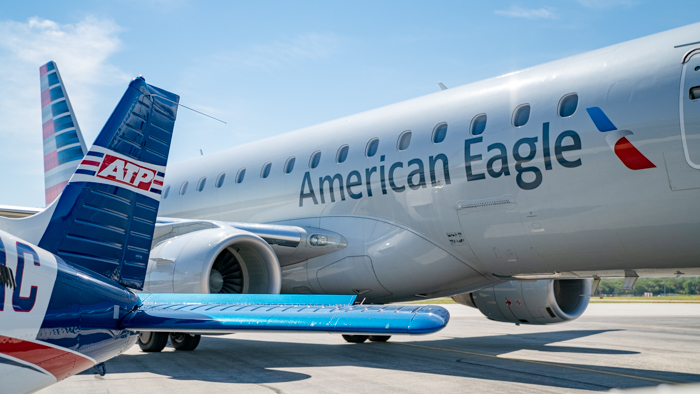 Last Friday, Envoy partner school, ATP Flight School, opened a brand-new, beautiful training facility at Arlington Municipal Airport (GYK) in Arlington, Texas. Envoy pilots flew in a shiny Embraer 175 for cadets, students and aviation enthusiasts to take a tour.
As a partner school, ATP is part of the Envoy Cadet Program that employs Cadets at flight schools around the country as Certified Flight Instructors. While instructing, Envoy Cadets can earn money while gaining hours to become an Envoy First Officer.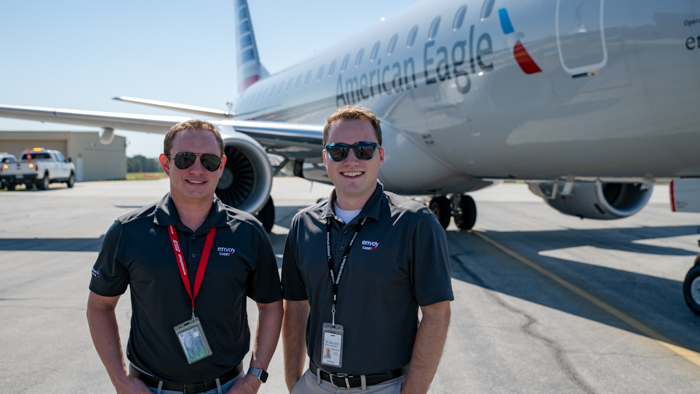 Above: Envoy Cadets Trent Simoneau and Nicholas Connolly.
"Right now, I only have a couple hundred hours, but I like having a stable job that helps me earn money and hours to eventually make it to Envoy," said Envoy Cadet Nicholas Connolly.
In the backdrop, a shiny Embraer 175 looms over his shoulder, a symbol of what's to come. Inside, curious people excited to network and learn more about ATP Flight School filled up the building — a fantastic turnout for the new school.
Thank you to ATP for having us, and good luck to our Envoy Cadets — see you at Envoy soon!
---
Interested in the Cadet Program? Click here to learn more.