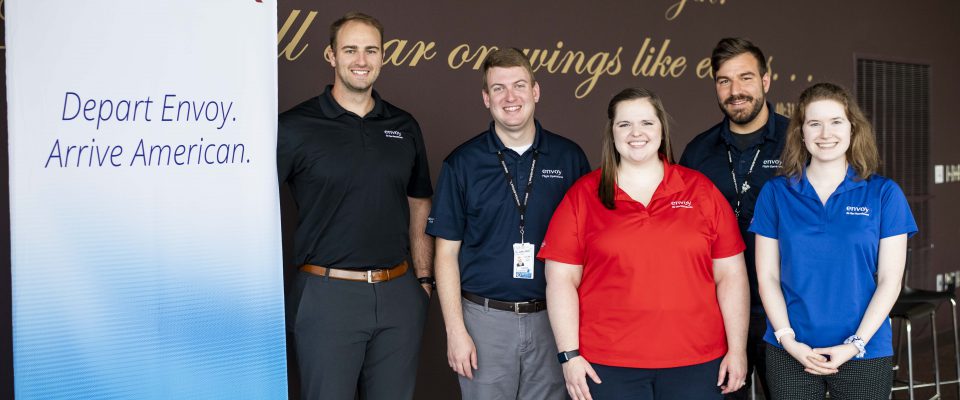 On Monday, May 2, members of the Envoy Recruiting Team visited Cadet Program partner school LeTourneau University (LETU) to host a finals week lunch and Alumni Q&A for aviation students. The discussion panel included First Officer Cullen Hippler, DFW Maintenance Supervisor Jesse Tart and Cadet Outreach Recruiter Kay Hippler. Each employee provided a deeper look into employment at Envoy and shared advice for transitioning from the classroom to airline life.
"As I get closer to transitioning as a First Officer, the encouragement that the current pilots gave and questions they answered helps me to feel more prepared for the upcoming training. Also, the fact that the now Envoy pilots had been my previous instructors was really cool! These people will once again be a couple steps ahead of me, ready to help out in whatever way they can," said David Erikson, Envoy Cadet Instructor.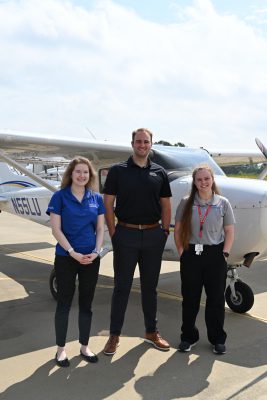 Before lunch, Women's Air Race Team Pilot, Sadie Morgan, took some of the Envoy team members for a quick flight over the campus in the school's Cessna 172.
"I am so grateful to Envoy in supporting this year's LeTourneau University Air Race Classic Team. I am excited to get to meet and race other female pilots from all around the US," shared Sadie.
"Racing in the Air Race Classic is an experience like no other, and I am privileged to take part in it. As a first-generation pilot, being in a community with others, especially women, means so much to me. I hope that through this race and my work as a flight instructor at LeTourneau University, I can help encourage more young women to reach for the sky."
Envoy is a proud Silver Level sponsor of the Women's Air Race Classic Team, whose purpose is to showcase LETU and its exceptional flight training program. Blue skies and best of luck to Sadie and her co-pilot, Marena Decker, as they prepare for the race in June!