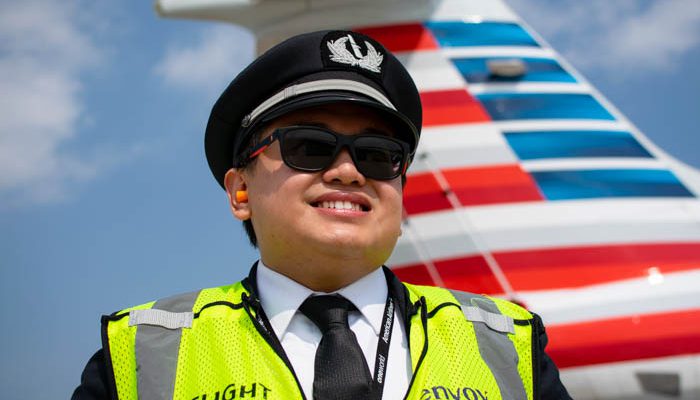 Passion is kind of Clifford's thing. He's passionate about traveling the world, he's passionate about his Filipino heritage, and he's passionate about aviation. With this great passion, First Officer Clifford Villanueva aims to help future aviators through the Professional Asian Pilots Association (PAPA). 
A Miami native, Clifford is the son of two Filipino immigrants. Part of what makes his job so special is that it allows him to travel to the Philippines often, and soak in his heritage as an Asian American Pacific Islander. 
---
---
Bit by the flying bug
The ability to see the world, with its many cultures and wonderful landscapes, is what initially drew Clifford to a career in commercial aviation. Although his parents were hesitant at first, Clifford said that their eventual support made his pilot career possible. 
"They were a little hesitant, because they wanted me to become a nurse," said Clifford. "But they definitely supported me financially and emotionally throughout my entire journey to becoming an airline pilot. Now, they're really proud of what I do and they're always excited about where I'm going next." 
When Clifford isn't flying routes on the Embraer 145, he likes to use his travel privileges to jet-set across the globe.  
"I like to use my travel privileges to travel anywhere and everywhere," Cliff said. "I've been as far as London Heathrow on my travel privileges, and probably as close as Atlanta, GA." 
As a Filipino-American, Clifford said that he shows his pride daily by simply being nice to people.  
"That's a great trait about being a Filipino, is that we're nice and hospitable people," Cliff said." Even though someone might treat me bad, I still treat them with kindness." 
Pay it forward, one pilot at a time
One way that Cliff shares his kindness, is by also sharing his knowledge. As a member of PAPA, Clifford plays a key role in helping future pilots along their careers. 
Whether it's answering emails, connecting and networking with others or being a mentor, Cliff said he's proud to be a part of PAPA. 
"The reason I wanted to get involved in the first place is because I wanted to help the next generation of aspiring pilots that wanted to be in my position get there," Cliff said. 
Clifford has great first-hand experience as a former Cadet at Embry-Riddle University of what it takes to become a First Officer. As part of his pitch to young pilots, Clifford likes to remind them that Envoy is the original American Eagle. 
"The Cadet Program gave me a head start with Envoy in terms of building seniority, as well as having company benefits, and travel privileges," Clifford said. "The main reason I chose Envoy over other airlines is because Envoy has a more secure path to American Airlines. That and having the history of being the original American Eagle made me want to go to Envoy in the first place."
Persist and enjoy the reward
On a day-to-day basis, Clifford flies a wide range of routes like a short 15-minute flight to Milwaukee from Chicago, or a long haul to Montreal. Wherever his trips lead him, Clifford said that he's always inspired by his friend Costas Sivyllis, who sadly passed away in 2020. 
"He showed that huge passion of aviation and being a pilot," Clifford said. "He basically taught me to live your life the way you want to live your life."
Just like his mentor, Clifford hopes he can pass along some advice to young up-and-coming aviators. 
"Never give up and keep pushing forward," Clifford said. "As my mentor Costas once told me, spend at least eight seconds taking in the view that's right outside your flight deck window and enjoy it."