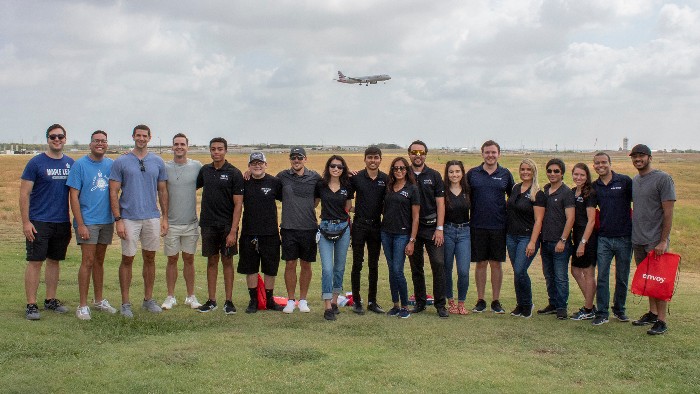 Last Friday, August 19, Envoy partnered with Dallas-Fort Worth Airport (DFW) to host a National Aviation Day celebration at Founders' Plaza. The fun started on social media a day prior to the event when Envoy and DFW shared a riddle to their social media channels, directing the collective following to gather at Founders' for a chance to win special prizes.
---
Video: Celebrating National Aviation Day!
---
An abundance of fun
A group of eager plane spotters and aviation enthusiasts arrived early to be first in line to win a Heritage E170 airplane model. An abundance of other Envoy and DFW swag was on hand to giveaway throughout the day as members of the Air Operations Recruitment, Corporate Communications, and Flight Service teams mingled with participants and shared information about a career with Envoy.
"National Aviation Day is like a nationwide party celebrating one of my favorite things in life, flying airplanes," said First Officer Austin Decker, Pilot Recruitment Manager. "Getting to meet others who share the same passion, with planes landing in the background, is a treat for all of us. It's days like this that remind me why so many of us love the aviation industry."
Special thanks to a special team!
The event turn out was fantastic and participants included members of the AA Cadet Academy, Envoy Cadet Program, AirlineGeeks.com, the local DFW plane spotter community, and some furry friends, too. Even RJ the Eagle made a special guest appearance!
Thanks to all who celebrated all things aviation with us last week. And thank you to DFW Airport for partnering with us to make this National Aviation Day a memorable one!