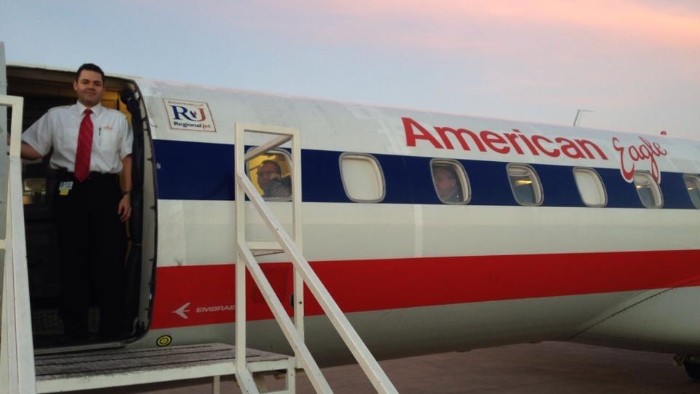 Cover photo: Eric Rose outside an Embraer 145 aircraft
Twenty-one years ago, on September 11, 2001, Flight Attendant Eric Rose (now a Maintenance Recruiting Manager) was having a normal day until the fateful moments that changed the world forever. Eric was working a flight from Corpus Christi (CRP) to Dallas-Fort Worth (DFW) when tragedy struck on the East Coast.
Today, Eric shares his story of what happened that day. Although he wasn't directly affected by the attack, his experience as a Flight Attendant during one of the most tumultuous times in air travel is noteworthy.
This is my story I will never forget
By Eric Rose
On September 10, 2001, I was in Corpus Christi, TX and went to sleep, just as everyone else, oblivious to the change we would all experience in the coming hours. I remember waking up the next day at the hotel ready to file an eBay grievance claim because a seller never shipped my Dallas Cowboys Quincy Carter jersey.
I then got ready for my American Eagle flight to DFW. We took off at approximately 7:50 am. We were en route and had just completed the beverage service.
As the number-two Flight Attendant on an ATR turboprop, I asked the other Flight Attendant if the pilots needed anything. The other Flight Attendant, Gene, called the cockpit and asked if they would like a drink, and received an orange juice request.
When I opened the flight deck doors, I recognized things on the flight deck were not normal. The First Officer was grabbing for a manual, radio chatter seemed frantic, and the Captain was focused and trained on the controls.
The Captain rips off a paper message from the control tower, and looked me dead in the eye and said, "we are diverting to San Antonio right now!" I read the message sent by the company, "YOU ARE ORDERED TO LAND YOUR ACRAFT IMMEDIATELY AT THE NEAREST SUITABLE AIRPORT…"
A chill hit my spine.
We landed in San Antonio (SAT) and turned off the runway. I saw six planes in a straight line, landing on the runway we just occupied and planes all over the taxiway.
We finally pull to the terminal area and the Captain turned the seatbelt sign off. It wasn't long after that commotion enveloped the cabin, with weeping and signs of shock from our customers. Many were receiving text messages or speaking with family, friends and colleagues, and I realized the gravity of what had occurred.
We deplaned, sending passengers into the terminal and the crew into the airport operations area where many employees were glued to the television. That is when I saw what happened.
The next three days, while airspace was closed for commercial travel, I would be confined to the hotel television, experiencing emotions I never know were possible. A pride I have never felt. A loss I have never felt, and an anger I have never felt.
I remember trying to occupy my mind with distractions…it wasn't easy.
On September 14, we were finally authorized to depart San Antonio. We were advised we would be the first of two commercial aircraft issued a flight plan.
We were told to fly from San Antonio to Little Rock, Arkansas (LIT) to pick up stranded passengers, and another American Eagle aircraft was directed to Louisiana. When we landed and taxied to the terminal, the mood was somber.
I called my sister to let her know what we were doing; picking up passengers then heading back home to DFW. I will never forget the conversation.
She told me, "You just do whatever you need to do." I responded with, "I know, I have this covered." We both knew what we meant.
We boarded the flight in LIT, and for the first time in my many years of flying, there was not a sound from the passengers. Every eye, many filled with tears, were glued on the safety briefing.
We arrived in DFW and everything became a blur, probably due to the emotions running so high and relief to be back in familiar environment. I would finally get to go home, but to a home that would be forever changed.
---
There are countless stories just like Eric's from September 11. However, listening and learning from them will ensure we never forget that day, and remember how strong a common bond we all share. Thank you, Eric, for sharing yours.