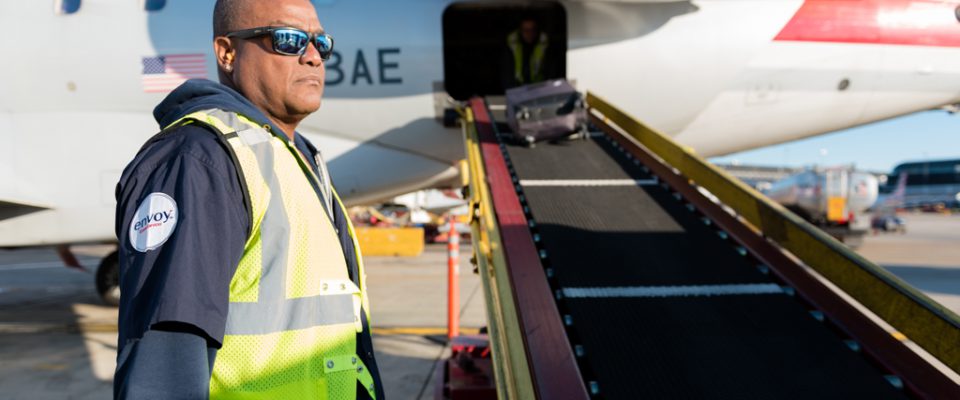 The numbers are in, and February was a record-breaking month for the Envoy operation. System-wide, we had the best February departure performance (MQ D+0) in our history – beating the previous record by more than 2.6 points.
"Both our Dallas and Chicago hubs produced their best ever D+0 and T+0 performance for all handled departures" said John Jaynes, Senior Vice President, Customer Services, "And the spoke stations also saw their best D+0 ever as well, which greatly contributed to our systemwide performance. February was a fantastic month for Envoy!"
"Envoy (MQ) could not have achieved such outstanding results without the passionate and professional efforts of all frontline and back office employees, who give it their best every day. The Air Operations team thanks our Envoy Field Services colleagues for their huge role in helping us gain time on the ground," added Dee Temples, Senior Vice President of Air Operations.
No bag left behind
February wasn't just our best month for departure performance (D+0), it was also our best month ever for baggage performance, with a record-breaking low Mishandled Bag Ratio (MBR) of just 4.33 across the entire Envoy system.
"Our Dallas/Fort Worth and Chicago hubs also generated their best ever MBR, which greatly contributed to system-wide performance," said John Jaynes, Senior Vice President, Customer Services. "DFW beat their previous record by one point, and ORD beat their previous record by 1.45 points. Combine that with fantastic performance from our outstations and we have another reason to mark February as a record-breaking month."