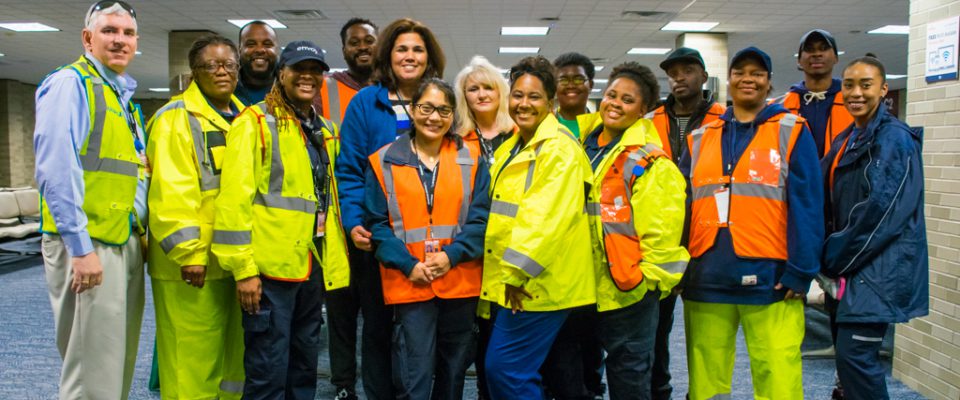 Detail, detail and more detail – this is the constant theme for overnight cabin-cleaning operations at Memphis International Airport (MEM). Attention to detail, scrutiny, double-check, close inspection and consistency are all buzzwords flying around while Cabin Service members perform their diligent duties through the middle of the night.
Starting at 9 p.m., a crew of about 15 cabin cleaners takes on 11 aircraft that remain overnight – or "RON" – which includes regional and mainline American Airlines aircraft.  Until about 2 a.m., they transform the heavily-used aircraft into a shiny and pleasant ride for the next day's passengers.
"I tell the employees that when a passenger comes in, they think it's a fresh, brand new airplane just for them," says MEM General Manager Maria Mayoli. "We make sure that it is completely refreshed."
On the fly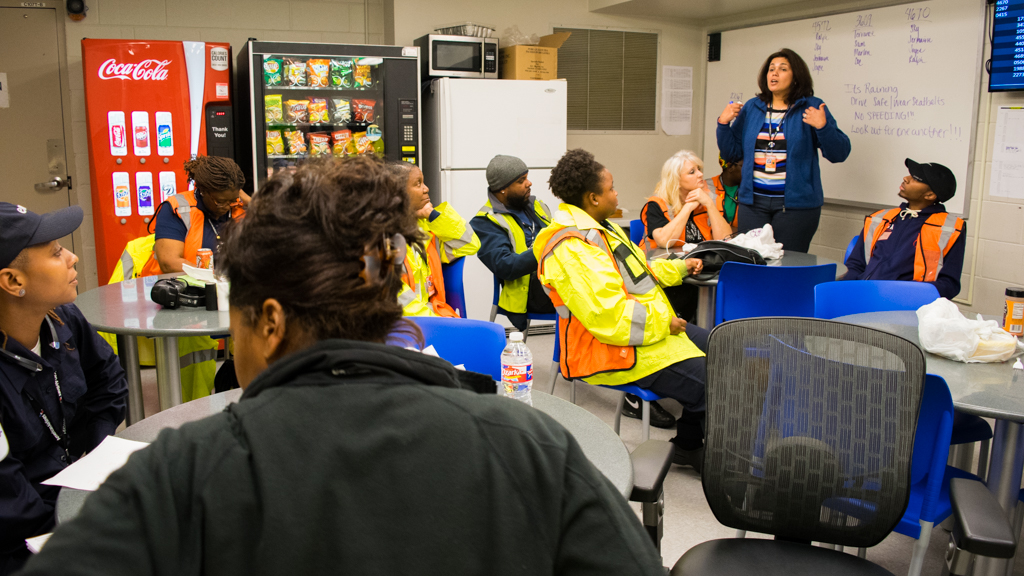 Overseen by Supervisor of Airport Services Craig Honeycutt and Maria, the Envoy RON cleaning has only been operating since December of last year. Since then, it has been a try-and-see procedure that requires a lot of adjustments to work out the kinks.
Maria, who learned RON-cleaning practices from Southwest Florida International Airport in Fort Myers, says that they've fiddled with start times, number of cleaners per aircraft, checklists and other minutia to get to the point where they are now. Most importantly, they have found their Lead members to help orchestrate the process.
Having confidence in a handful of Leads is paramount when it comes to the microscopic details of RON cleaning. The driving force behind the mantra of detail is the fact that overnight cleaning undergoes a litany of audits and security checks from American Airlines, TSA, FAA and Envoy management.
Craig and Maria know down to the marrow what is expected of them and, in turn, what they expect out of their Cabin Service employees. A few examples of the kind of details auditors look for: clean surfaces underneath the soap dispensers, bone-dry trash bins, spotless PA microphones and streak-free mirrors.
Wanted: Detail orientated person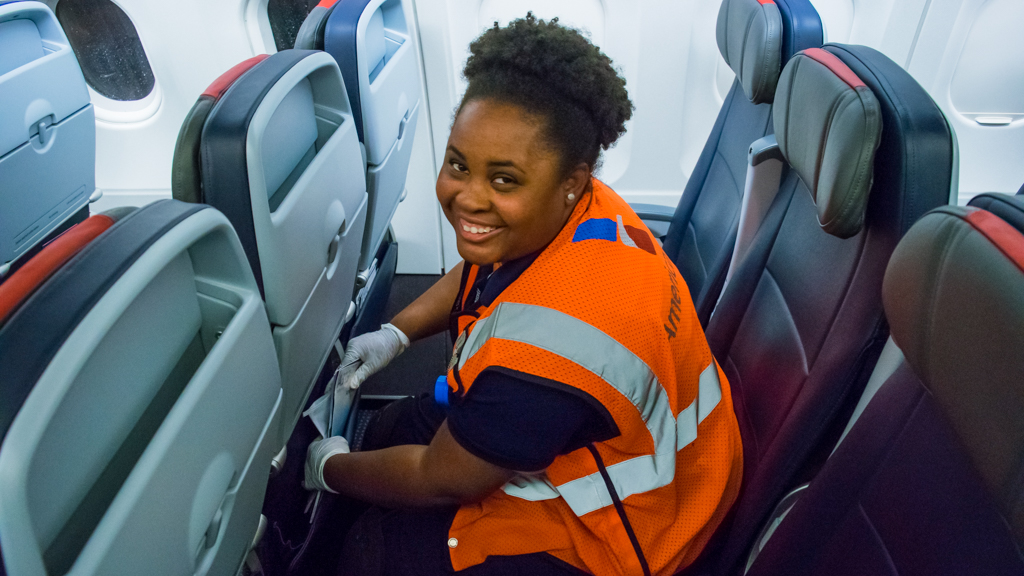 The RON cleaners at MEM honestly enjoy their work. Whether it's the late hours or the high expectations, they seem to face the challenges with positivity.
"At first it seems like a lot of things to check, but, after a while, it becomes second nature," says Lead Cabin Service member Nicole Eddings. "We have to be sure that everything is checked, because we want every travel experience to be a good one for the customer."
Cabin Service member Jessica Nolan has been with the cabin-cleaning crew since November, and she says the late nights have begun to grow on her. She used to think the tasks were overwhelming, but she likes the repetition because she gets "better and better every day."
Maria says that people like Nicole and Jessica own the perfect work ethic to master the job. They have attention to detail, work well as a team and want to take charge.
Heroes of the night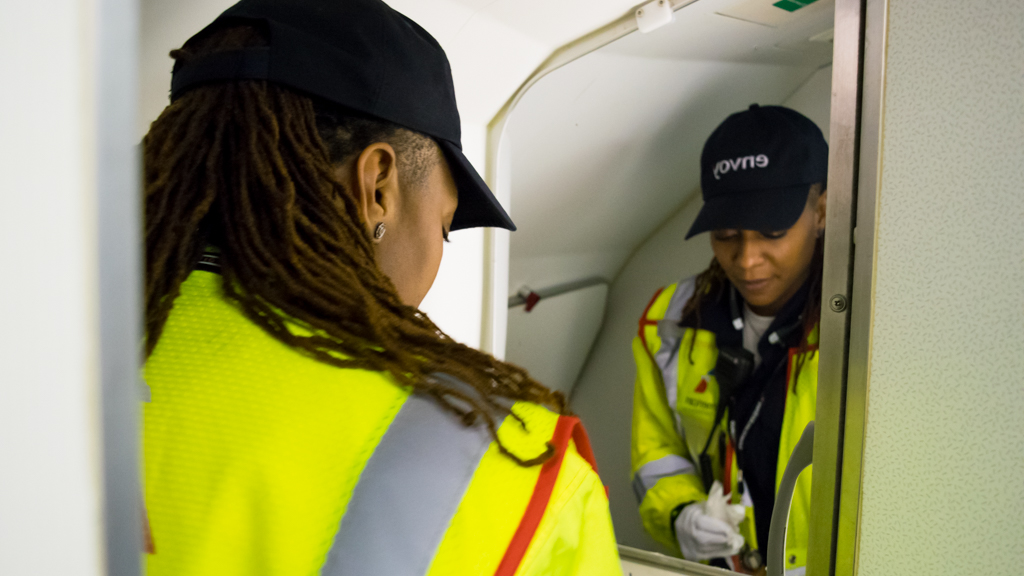 The job may have its challenges and, yes, there is pressure to perform on a sky-high level, but the result of a RON cleaning is so satisfying for the MEM team and passengers alike – although they might not realize it. Overnight cabin cleaning is yet another "unsung hero" activity like Crew Scheduling or Ground Support Equipment maintenance.
After Nicole finishes her inspection of the Embraer 175 and checks off every last box on her checklist, there is a visible difference between when the aircraft was parked to when she does her own "white glove test." The carpets seem to sparkle, the walls are seashell white and there's that new-car smell most associate with cleanliness.
"Whenever I get an audit back, and we've scored high, I always show them to our cleaners so they can see how important their job is," says Maria. "When we pass with a perfect score, that's because of their hard work and attention to detail."
There's that word again; detail.