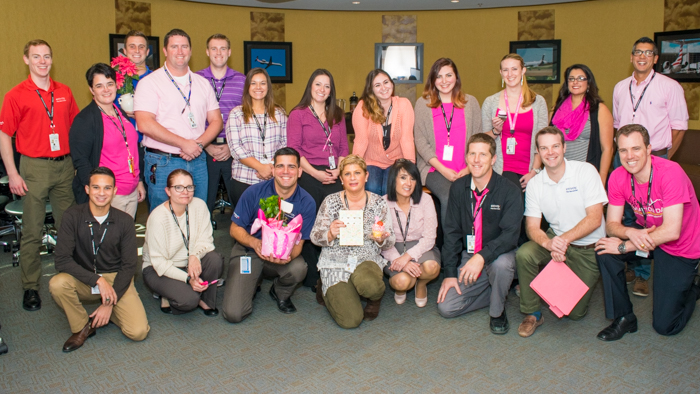 In October, among the leaves of yellow, orange and red, you can always find a little pink brightening up the day. That's because October is Breast Cancer Awareness month and at Envoy, employees across the system wear pink to not only bring awareness to the need for research, but also in support of friends and family who are battling the disease.
Last week, pilot recruiters gathered to surprise a fellow coworker in the department with flowers, sentimental cards and cupcakes all while donning their best pink outfits. Flight Attendant JoAnn Manchester, who was diagnosed with breast cancer in July of 2016, was in complete surprise when she showed up to a "mandatory meeting" and everyone was wearing pink.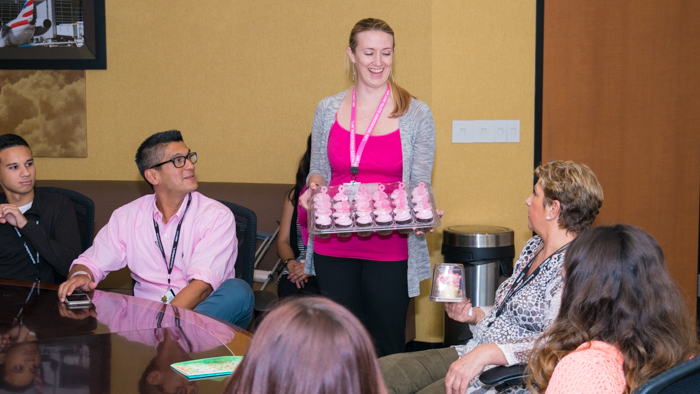 Orchestrating the surprise was Captain Jessica Hines, who said that JoAnn is the reason why she's been wearing pink all month.
"JoAnn has been a wonderful addition to our department," said Jessica. "She has a great personality and we enjoy seeing her smile. Even with all that she has been though she still remains positive – a true inspiration to us all."
Two times the fight
JoAnn, who was also diagnosed with cervical cancer 25 years ago, is undergoing extensive treatments and is on an upswing, about to defeat cancer for a second time. At the surprise meeting, emotions ran high as JoAnn realized the great support she has around her.
"It is difficult to express how deeply I was touched by the support and honor given to me by my coworkers and also friends," said JoAnn. "I am so fortunate to work for a company that has shown a genuine concern and care for my wellbeing. While cancer is never something we wish on ourselves, I feel blessed to have had two opportunities to become a better person and gain the knowledge and insight that the battle has afforded me. I can never thank Envoy, or my coworkers and friends, enough for all the care and support they have shown and continue to show."
If you would like to join the #NonStopFight, click here to learn how, as an AAdvantage member, you can donate to the Susan G. Komen foundation and earn Miles for the Cure.