The word diversity means something different to everyone. That's the beauty of bringing together people from different backgrounds, perspectives and ideologies – using those differences to achieve a common goal.
This April at Envoy, we are joining in the recognition of Celebrate Diversity Month to continue our longstanding dedication to harmonizing the many voices that work at our airline. Leading the way is our very own Andrea Jackson McCrimmon, who heads up our diversity initiatives in the People Services department.
Andrea began her aviation career working in reservations at American Airlines nearly 30 years ago. In 1995, she joined the Human Resources department to handle the Americans with Disabilities Act (ADA) and Affirmative Action compliance programs, beginning her experience with Diversity & Inclusion in a corporate setting.
Wealth of diversity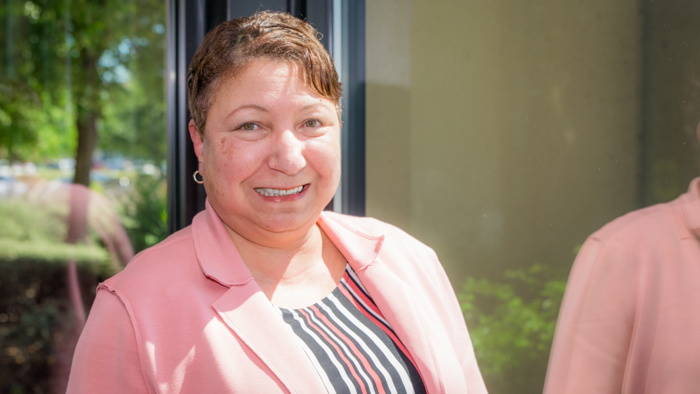 Andrea Jackson McCrimmon, Envoy People Services Compliance and Diversity Manager
In 2011, Andrea moved to Envoy and provided her expertise she learned from American. Now that she's "come full circle," Andrea has taken the lead to bolster our dedication to celebrate diversity and turn words into action.
"Diversity isn't just about race and gender, there's so much more to what makes us a diverse company," said Andrea. "Diversity also takes into account perspective, education, age, disability, veteran status…All of those things together really do give us a richness of thought and help us make better decisions as a company."
Within our executive leadership and management teams, Envoy has a wealth of diversity and was recently recognized by Diversity MBA Magazine as one of the top 50 companies for women and diverse managers. Even more impressive, Envoy was the only airline to be recognized for this honor.
"Diverse leadership benefits us in the long run by having more well-rounded and robust ideas," Andrea said. "It goes to show that the avenues are there for everyone who wants to make their mark in a leadership position."
Celebrating diversity daily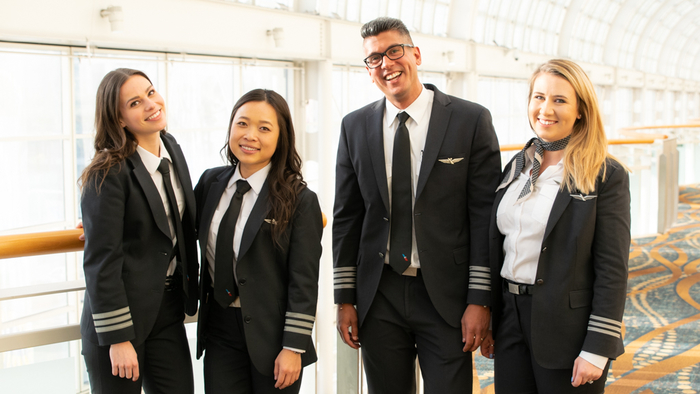 Not only in leadership, but all throughout the Envoy operation we have a rich and diverse culture. As the largest regional airline operating under the American Eagle brand, it's imperative that our employees reflect the abundantly diverse customers we interact with every day.
"When employees feel like they can bring their entire selves to work and are valued for their differences, they become more willing to contribute and lend their voices," Andrea said. "Not only their voices, but they'll roll up their sleeves and lend a hand as well. That positivity and togetherness trickles down to the customers, which is where we want to be the most successful."
Envoy consistently celebrates diversity in a number of ways. During Black History Month, we showcased a number of African American employees and held a special Soul Food Cook-off; for Veterans Day each year we commemorate our veteran's service with special challenge coins; and for Women's History Month, we held a special Women Leaders Panel where employees could learn from key female leaders and network with one another.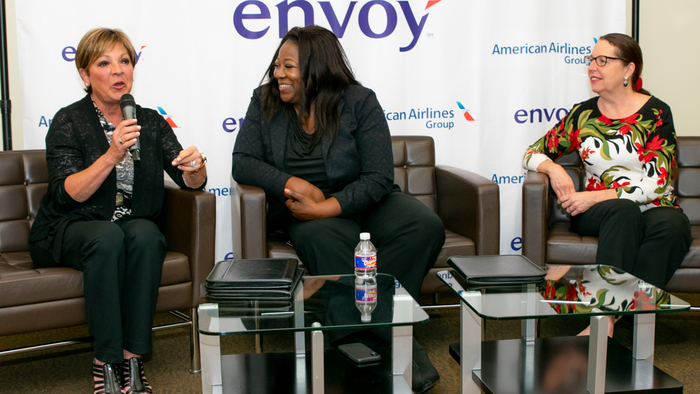 Linda Kunz, Regina Wadsworth and Grace LeMay at the Women Leaders Panel at Envoy HQ.
During that Women Leaders Panel, Andrea said that was a perfect example of what Diversity & Inclusion looks like to her.
"Diversity is about recognizing the strength and differences we all bring to the table," Andrea said. "Inclusion means we embrace everyone so they're comfortable knowing they have a voice at the table."
Andrea, who is African-American, said that she's thankful she joined the aviation industry 30 years ago.
"I love aviation and the culture around it, but I especially love my diverse Envoy family," Andrea said. "I've been able to find my niche with the support of great mentors along the way. I learned a while ago that the sky's the limit at Envoy, and I want to do my best to make sure we all feel that way."