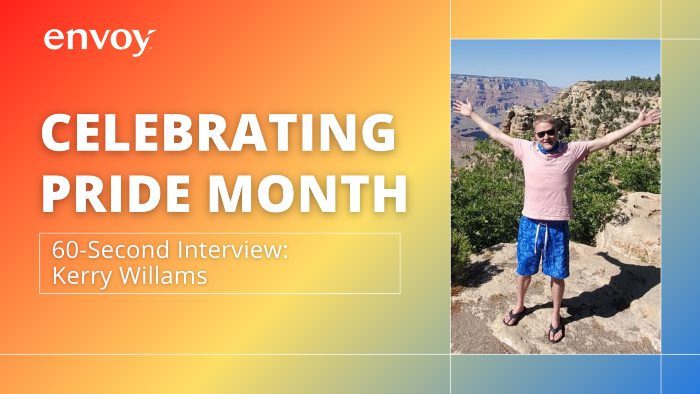 To be our true selves; that's all any of us want. At work or at home, with friends or with family, we want to be seen for who we really are.
At Envoy, we believe that no matter your background, your native language, or who you choose to love, we all can be superstars and contribute to the success of the airline. This June, in celebration of Pride Month, we're spotlighting our employees to learn more about what makes them unique and why they feel equal rights for the LGBTQ+ community is important.
First up is Kerry Williams who is the Customer Services Supervisor at Blue Grass Airport (LEX) in Lexington, Ky.
---
What is your Envoy story?
I have been in the industry on and off since I graduated high school. I worked for Envoy, then American Eagle, from 2004-2007 and returned in 2019 after retiring early from the engineering field.
I have held positions as an airport agent, shift manager, and supervisor. My day-to-day can encompass any and every task associated with the safe departure of our aircraft while leading and entertaining my team to the best of my capabilities.
What's the significance of Pride Month to you?
Pride for me signifies unity more than anything else. The times I have celebrated Pride events, I was moved more by the support from traditional families than the celebration of the single individual.
Moreover, Pride always signifies the start of summer and that love always wins.
Why is celebrating diversity inside and outside of the workplace important to you?
Diversity in the workplace is what brought me back to Envoy. It is the value in which I judge businesses and decide if they deserve my talents.
At Envoy, we live it, breathe it, celebrate it, and protect it. Allowing individuals to be themselves at work, as they are outside of work, fosters an environment for both personal and organizational success.
Who in your life has inspired you, or is your role model?
My parents have been my biggest inspiration. They always provided and encouraged an environment of self-awareness and self-assuredness.
The number one lesson was to do things for myself, not others. Then and only then, could you provide for, and take care of others.
What advice do you have for young people in the LGBTQ+ community?
The best advice I can give is to not waste a moment of your talents with an organization that does not respect or value who you are.
Tell us one surprising fact about yourself that others may not know.
I hate ham salad. Ham salad should not exist. It shouldn't be made; it shouldn't be eaten; I shouldn't even be talking about it.