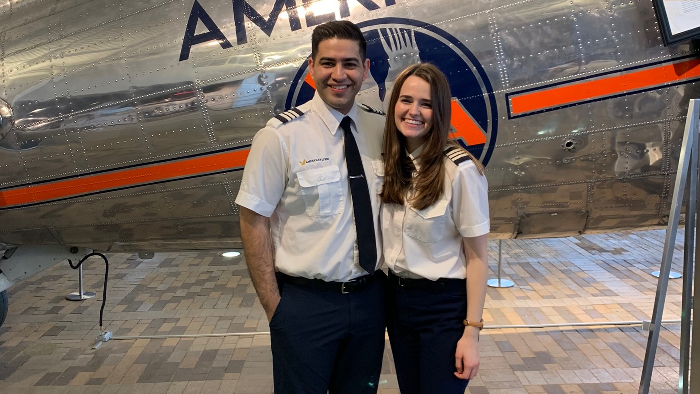 Some people have a relative or a friend to thank for setting them up with their significant other. But have you ever heard of an airline playing matchmaker?
That's what happened when Erik and Brystal Mejia became Envoy Cadets in 2018. Now, four years later, both are First Officers with Envoy and enjoying every minute as a pilot couple.
In honor of Valentine's Day, let's hear from flight-attendant-turned-pilot, Erik, and his wife Brystal as they relive how they met, their favorite travel moments, and why they became cadets.
Love at first flight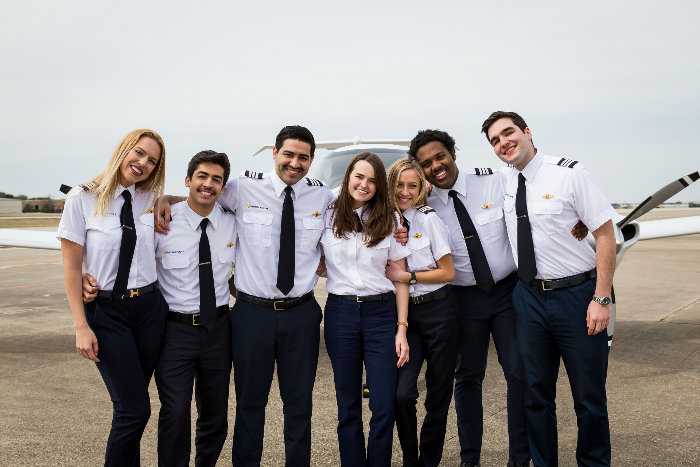 How did you all meet? Was it love at first sight?
Brystal: Erik and I met on the first day of cadet class in 2018. I was immediately drawn to him and could tell that he was a great guy.
Erik: At first, we knew we liked each other but we tried keep it professional and focused on our training.
Brystal: Eventually, we started studying together at different coffee shops in the area. As we got to know each other more and we established a solid friendship, I got to see just how amazing he is!
Tell us about your engagement. Where did you get married?
Erik: I proposed to Brystal on June 14, 2020 in Austin, TX. We got married on November 15, 2020 in Waxahachie, TX.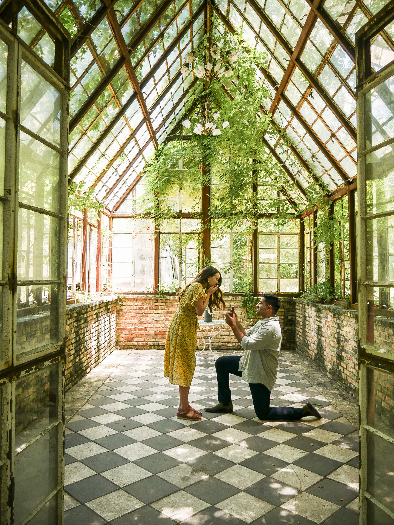 I was so excited, before our wedding day came, I would have my students practice maneuvers over the wedding venue. I wanted to get a view of the place from a thousand feet in the air!
Brystal: Our wedding was beautiful, detailed and a ton of fun. Erik wanted a mariachi band, and that ended up being my favorite part!
Several of our fellow Cadets were in our wedding party, which was really special.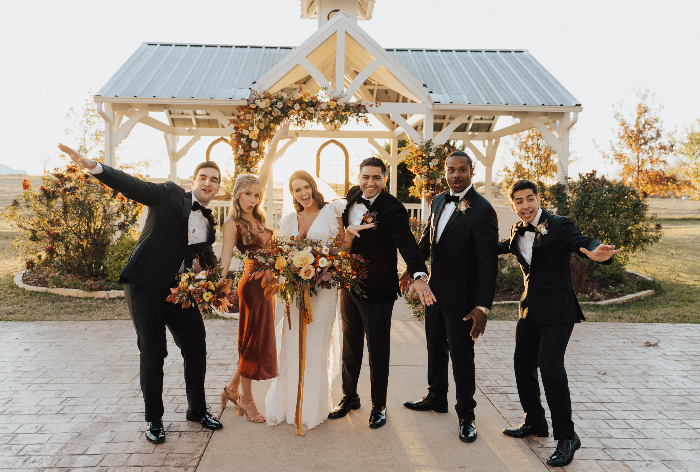 What are the advantages and benefits of being a pilot couple?
Brystal: There are a lot of benefits to being a pilot couple! It's great to be able to talk about our work with the other's full understanding and support. I love that I get to learn from Erik's experiences flying — I think it makes us both better pilots.
Erik: The best advantage is that we get the unlimited ability and flexibility to get to explore the world together. We can follow each other on layovers, and to have someone who truly understands the ins and outs of being a pilot.
So, traveling is a common passion? Do you get to use your travel privileges often?
Brystal: We love traveling together! We have spent a lot of time in California, Mexico, and Colorado. Although we would always like to get to do it more, we use our flight privileges as often as we can, and always look forward to exploring a new city.
Erik: We enjoy meeting new people and trying different foods, seeing jaw dropping natural landscapes and experience different cultures together. I wouldn't want to do it with anyone else!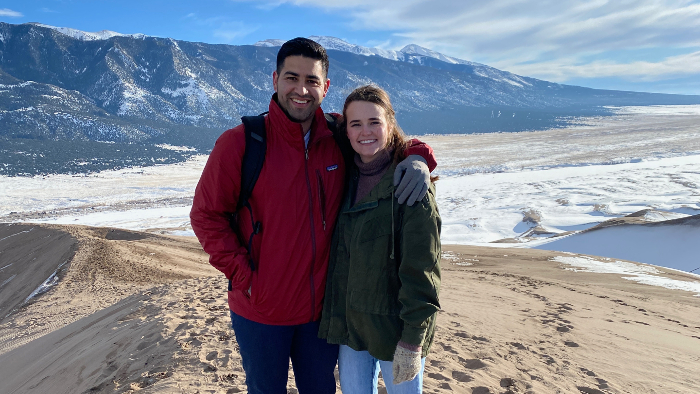 Without the Envoy Cadet program, you two may have never met. Why did you choose to fly for Envoy in the first place?
Brystal: There are many reasons I chose to fly for Envoy. One, my dream is to ultimately fly for American!
Also, I like that many aspects of Envoy's training program and procedures align with those of American. Several trusted mentors pointed me in the direction of Envoy because of the reputation of quality and safety that the airline upholds.
Erik: First, the people. I have always felt the people you surround yourself with impact you in many ways, and my impression of the people I met at Envoy was very positive.
Coming from a flight service background, I respected that Envoy pilots carry a reputation of not only being exemplary and some of the best pilots within the profession, but they are also known for being well-rounded individuals. I wanted to be part of that special group!
Why should up-and-coming pilots join the Envoy Cadet Program?
Brystal: The Cadet route has great advantages. I started building company seniority while I was still flight instructing, and had access to American's fantastic travel privileges.
Erik: I decided to join Envoy as a Cadet because they made me feel like family, and after you hear about the benefits — it's a no-brainer. Becoming a Cadet allows you to get your foot in the the door with Envoy, and eventually American Airlines.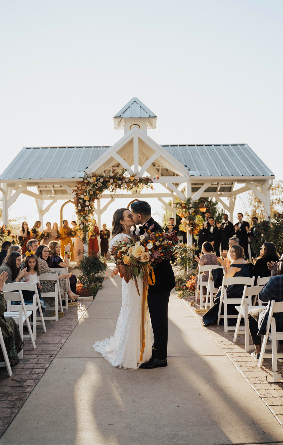 How do you plan to celebrate Valentine's Day?
Brystal: This year, one of our vacation weeks happened to fall over Valentine's Day so we are going to spend several days in Santa Fe, New Mexico. We have plans to ski, find some live music, and eat a lot of good food.
I just want to add that we are so thankful for every opportunity that this career has brought us, and for the incredible people we have met through it. We are especially fortunate that our time as Cadets brought us together, and now we get to do what we love as a married couple!