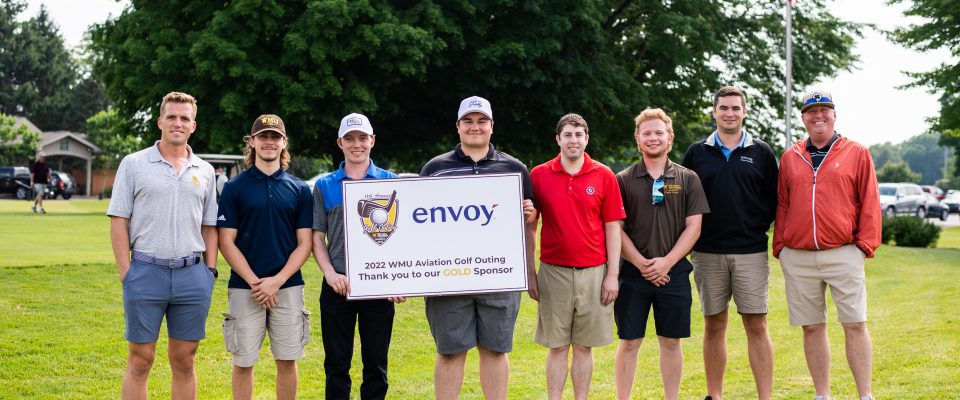 On Monday, June 6, the Western Michigan University College of Aviation held its 11th Annual Aviation Golf Outing. As a Gold Sponsor of the event, the Envoy recruiting team had the opportunity to connect with Envoy Cadets and partake in the festivities.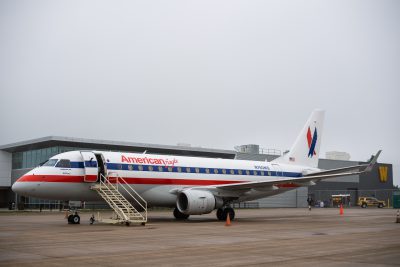 The two participating Envoy golf teams were made up of Vice President Flight Operations Ric Wilson, First Officer Aaron Smith, WMU Envoy Cadet Instructor Brady Tighe, and WMU Aviation students Xavier Zeller, Joey Course, Matthew Bendex, and Evin Cooper.
"Being able to meet VP of Flight Operations Ric Wilson and the recruiting team in a less formal and fun environment has been my best experience as an Envoy Cadet to date," said Envoy CFI Brady Tighe. "What sets Envoy apart from other regionals is the family feel to the company and I've really enjoyed being apart of it."
The day following the tournament, Envoy recruiters hosted a "show and tell" at the WMU airport featuring Envoy's E170 heritage livery aircraft. The students in the WMU Cadet Program were able to get up close and personal with the special, retro E170 and sit in the flight deck.
"We're thrilled to be a Gold Sponsor of this year's event to support the Aviation College and get more involved with students to show them what Envoy is all about," said Vice President Flight Operations Ric Wilson. "We loved having the opportunity to show off our aircraft and highlight what we do to excite the aviation students at WMU."