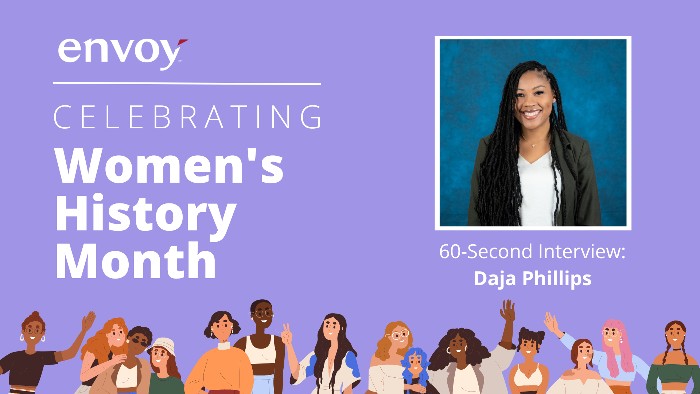 March is Women's History Month, and this year we wanted to share a few quick, 60-second interviews to highlight the amazing women at Envoy who work hard, inspire others and lead our airline into a successful future. Up first is Daja Phillips who is an up-and-coming Talent Acquisition Specialist at our headquarters in Irving, Texas and currently runs a non-profit organization benefitting women.
---
What is your Envoy story?
I saw Envoy had an opening and I heard great things from friends who were currently working for the company. I've always been intrigued with the aviation world and I love to travel.
I came from a sales-recruiting background and thought recruiting for the airline industry would be a great next-step in my career. I've learned so much over the past year. I love my team and I've come to really appreciate the work we do to help grow Envoy.
What's the most rewarding part about your current role?
As a Talent Acquisition Specialist, I have the luxury of making a direct impact for job candidates in my assigned region. I love the one-on-one interactions we're able to have with candidates on a daily basis.
One memory that comes to mind is when I offered a candidate a managerial position; the excitement and gratitude the candidate expressed through the phone made me extremely grateful to be in this position. It's those small moments that reaffirm my "why" and how lucky I am to be in this in this line of work.
What woman has inspired you in your life and/or career?
My mother was always my superhero growing up. She worked extremely hard to provide for us as a single mother.
She taught me that it's possible to have it all — the career, higher education, business and family. She will always be my inspiration as I help others reach new milestones within their careers.
What might people not know about you?
I've always had a passion for helping others. During my undergrad, I studied human trafficking abroad for a summer.
Through the program I was given the opportunity to advocate for other women in need. We held prevention and educational programs to raise awareness of human trafficking. Which ultimately led me to starting my own nonprofit here in Dallas.
A main focus of my nonprofit, Her Grace Women, is to inspire other women to go above and beyond what they think they are capable of. There really is no limit to what we are able to achieve and the more glass ceilings we can break, the more opportunities become available for those who come after us.
I've been fortunate enough to find a career that has allowed me to use my love of helping others, to make a real difference in their lives.