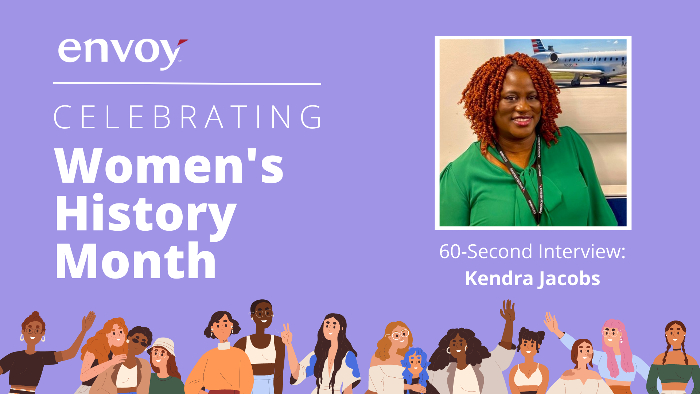 March is Women's History Month, and this year we wanted to share a few quick, 60-second interviews to highlight the amazing women at Envoy who work hard, inspire others and lead our airline into a successful future. Here, we speak with Kendra Jacobs who the Manager of Baggage Operations at LaGuardia Airport (LGA) in New York City.
---
What is your Envoy story?
I started in aviation because of the passion I had in the tourism industry.  My journey started in 2000 at St. Kitts in the Caribbean, when I wanted to work for American Eagle because they were flying around the Caribbean Sea and mountains.
Having my daughters growing up in the U.S. was an incentive for me to transfer to LGA in 2017 as a Lead Agent. After a sterling performance during my first three months, I was promoted to Customer Services Supervisor. In 2021, I was offered the newest challenge of Baggage Operations Manager, which is my current role.
What's the most rewarding part about your current role?
Making a difference in others' lives, meeting new people from various walks of life, having positive relationships with my colleagues, making an impact on so many of our customers — all of these are facets that enrich my day!
What woman has inspired you in your life and/or career?
There are many women leaders that I've looked up to but the one that stands out the most is Delrah Lestrade-Lapsley, who is the current Envoy General Manager in St. Kitts. She's as solid as a rock.
What might people not know about you?
Growing up and living in rural St. Kitts, I was close to the beach. Yet, I cannot swim to save my life.