Workplace friendships can be a rare gem, and when you find someone who not only shares your passion for the job but also becomes a true friend, it's a special bond that enhances both your personal and professional lives. Such was the case for Customer Service Agents Rosario Arreola and Candie Dela Pena, who crossed paths four years ago while working together at the Northwest Arkansas National Airport (XNA). Little did they know that their connection would extend far beyond the workplace, transforming their work environment into a place that feels more like home.
Discovering Common Ground
From the moment they met, Rosa and Candie felt a unique connection. While their initial bond was forged over a shared love for their job, it didn't take long for them to realize that they had much more in common. As they spent time together during lunch breaks, coffee runs, and adventures using their travel privileges, they began discovering their shared interests, hobbies, and passions. It was as if they were cut from the same cloth, experiencing a level of synchronicity that felt almost serendipitous.
Engaging in activities beyond their professional lives allowed the friends to delve deeper into each other's worlds, gaining insight into each other's likes, dislikes, and mannerisms.
"Our colleagues at XNA started noticing the strong bond we shared," said Candie. "One Flight Attendant even asked if we were sisters!"
Growing Together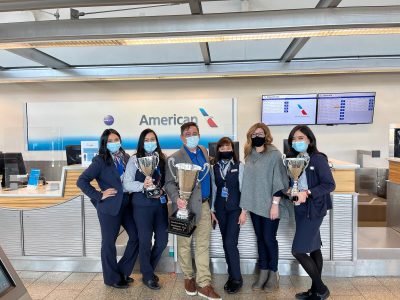 Having a close friend at work goes beyond companionship; it creates a sense of ease and efficiency. For the pair, collaboration has become effortless, as their deep understanding of each other's work styles and preferences allow them to work seamlessly as a team. This harmonious rapport was no doubt a contributing factor for the XNA team's recent Customer Cup wins for outstanding airport operational performance and customer satisfaction.
"We anticipate each other's needs, complement each other's strengths, and support one another during challenging times," shared Rosa. "Work is more enjoyable when you have a friend by your side who uplifts you and shares the same level of dedication and passion."
Bentonville and Beyond
The "Bentonville Besties" continue to be each other's cheerleaders and confidants, both in the workplace and beyond. The pair has traveled together to New York, Miami, Florence, Rome, Dallas, Hawaii, San Diego, Cinque Terra, Montana, and even some road trips. With summer in full swing, they plan to take a shared trip to both Spain and Thailand.
Thank you to Customer Service Agents Rosa Arreola and Candie Dela Pena for sharing their friendship story! Here's to all the BFFs out there!
Meet your new BFF at Envoy by visiting envoyair.com/careers