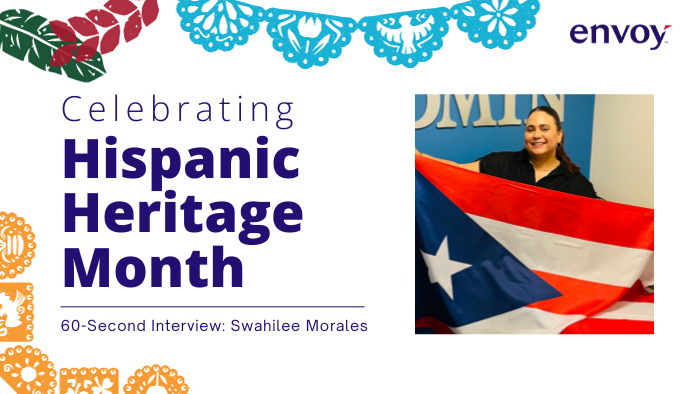 In celebration of Hispanic Heritage Month, we're highlighting some amazing folk at Envoy who identify as Hispanic and contribute to our airline's success. In our first installment, we meet with Swahilee Morales, who is an Envoy Support Services Specialist at Dallas-Fort Worth Airport (DFW), to learn more about her role at Envoy and how she celebrates her Hispanic culture.
---
What is your Envoy story?
I started working for Envoy in May of 2016 as a Customer Service Agent. After four years of customer service experience, I wanted to expand my knowledge and skills within the company, and I became a Lead Agent for Hub Administration supporting the department in different areas. This experience was key in my development to become a supervisor later on.
What's the significance of National Hispanic Heritage Month to you? 
I was born and raised in Humacao, Puerto Rico. After moving to Texas, I remain proud of my heritage — that's why celebrating National Hispanic Heritage Month is so important for me.
It's a time to remember the history of our ancestors and our culture. One of my favorite historical figures of Puerto Rico is Mariana Bracetti Cuevas, who knitted the first Puerto Rican flag that was intended to be used as the national emblem.
How do you like to show your Hispanic pride?
I love showing my Puerto Rican heritage through my cooking. I enjoy making Puerto Rican dishes for my family and friends.
Tell us one surprising fact about yourself that others may not know.
I love watching baseball with my dad and fiancé.