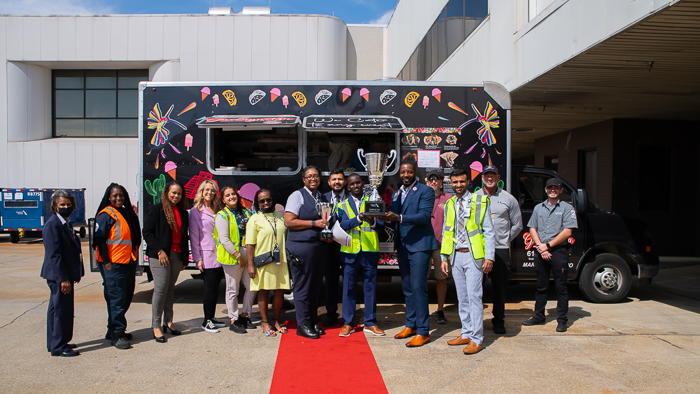 It's not every day you spot a food truck out on the ramp. It's also not every day that a team celebrates an American Airlines Customer Cup! Last month, the Envoy and American Airlines teams at John Glenn Columbus International Airport (CMH) did just that, and brought in a local Mexican food truck to make the party even better.
To win the Customer Cup, stations must outshine their peers across many categories. Safety is always number one, but other metrics like on-time departures (D0), turns (T0), baggage handling (MBR) and all-around customer service play a big role in a team's likelihood to take home this quarterly award.
"We wouldn't have this award without everything you do to ensure the operation runs well," said Envoy CMH General Manager Mouctar Diallo during the station's celebration. "It may show CMH engraved on the Cup but it's what you're all doing as a team that earned us that."
CMH is one of the busiest outstations in our network, with daily flights to BOS, DCA, CLT, DFW, JFK, LGA, MIA, ORD, PHL and PHX. Working together while handling this busy flight schedule is just one of the many reasons why a Cup win is such a great accomplishment for team CMH.
"You guys are doing a fabulous job when it comes to turning aircraft, and that speaks to your discipline and work ethic," said American CMH General Manager Joseph Edwards. "Because of the size and scope of our operation there are more potential challenges to face, so that makes this win a fantastic earn."
At the celebration, employees from Envoy and American Airlines got to grab some food from the food truck and take photos with the Cup at a photo booth set up in the breakroom. In between bites and snaps, members of Envoy and American's leadership teams took time to congratulate and thank the group for their outstanding efforts.
"This success would not be possible without the partnership between not only Envoy and American, but between you all individually," said Envoy Vice President of Airport Services Planning Kevin Ward. "From the ticket counter to the gate agents to the ramp agents, and everyone in between, your hard work shows and this award is a great way to memorialize that."
Congratulations, Team CMH – can't wait to see you take home another win!