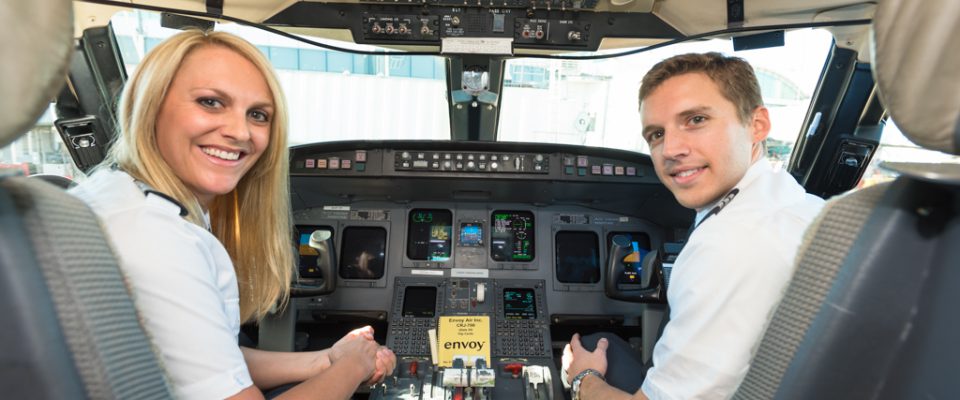 Effective immediately, Envoy has increased our new hire pilot signing bonus to up to $22,100, ensuring new Envoy First Officers can earn up to $60,000 in their first year on the job.
"When you add up Envoy's increased signing bonus, our $20,000 First Officer retention bonus and guaranteed flow-through to American Airlines, without any further interview – it's clear that our pilots are among the most highly compensated in the industry," said Ric Wilson, Vice President Flight Operations. "On day one at Envoy, and throughout their flying career."
New hire pilots who choose to operate Envoy's legacy fleets of Embraer 140/145 and Bombardier CRJ-700 aircraft will now receive $22,100 on day one. Our new hire signing bonus for pilots choosing to operate Envoy's newest fleet of Embraer 175 aircraft has also increased, to $17,100. And, all new First Officers will enjoy a $20,000 retention bonus following one year of service, paid in quarterly $2,500 increments.
Captains at Envoy, who are already well on their way to a guaranteed job at American Airlines, also receive a $7,500 retention bonus, payable in three $2,500 increments.
"Our ability to attract and retain the most talented pilots has been critical to our success," added Wilson. "Hiring more new pilots allows us to compete for additional flying and provides swifter career progression for our First Officers looking to upgrade to Captain, and our Captains who are in line to flow-through to the mainline."
In addition to pay and bonuses, Envoy offers an unmatched total compensation package, including:
American Airlines Group Profit Sharing
401(k) Plan with company match
Free personal travel on American's global network – at the same boarding priority as mainline employees
Life, health and disability benefits
Preferred crew bases in Dallas/Fort Worth and Chicago, with paid hotels for training and commuting. (New York LaGuardia base opening in January.)
Generous commuter policy
Company paid iPads, Global Entry/TSA Pre-Check
Free membership in the Known Crewmember (KCM) program to speed you through security
A direct career path to a flying career with American Airlines without any additional interview required
Apply today! Or call Envoy Pilot Recruitment at (972) 374-5607 and speak to a recruiter.